Baked peppers with olives
Baked peppers with olives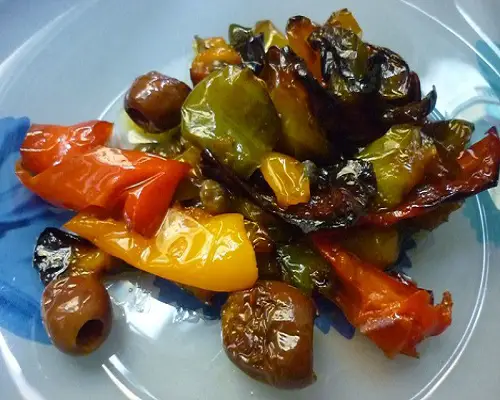 Ingredients
for 4 people:
Peppers 1 kg

Gaeta black olives 100 gr

1 tablespoon of capers, desalted

1 clove of garlic

chopped parsley

extra virgin olive oil

salt.
PREPARATION
In a baking dish put the cleaned peppers, freed of seeds and filaments inside and cut into slices, pitted olives, the capers and the garlic. Drizzle with the oil and mix well.

Place on the middle shelf of the oven at 200 ° C for 20 minutes, then, control cooking and season with salt. Mix well and cook for 30 minutes or until the peppers will be thoroughly cooked and browned.