Baked Calamari Recipe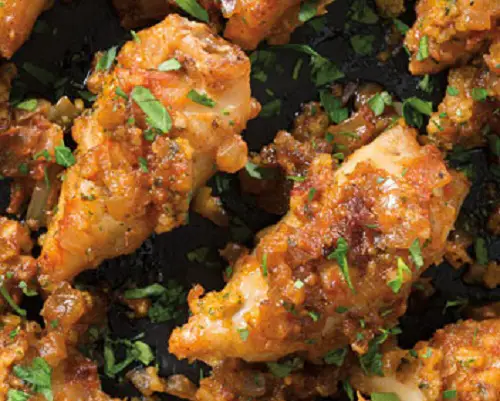 Baked Calamari Recipe
Ingredients
3 lbs calamari, fresh or frozen, cleaned (tentacles optional)

2 cups plain bread crumbs – Panko may be substituted

half cup chopped parsley

2 tbsp fresh lemon juice

1 garlic clove, minced or grated (optional)

enough olive oil to moisten the bread crumbs – should not be sopping wet

salt and pepper to taste

fresh lemon juice (optional)
Directions
Clean the calamari, if necessary. Make sure to remove the beak located in the center of the tentacles.

Chop the tentacles, if using.

Combine all the ingredients, except for the calamari tubes, and mix well.

Use the breading mixture to fill the calamari tubes. Do not overfill. The tubes will shrink while cooking.

Place filled calamari in a baking dish that has been lightly oiled or sprayed with cooking spray.

Sprinkle excess breading mixture on top of the calamari.

Sprinkle lightly with olive oil and, if you like, a little lemon juice.

Place in a pre-heated 350˚ F (175˚C) for 35 to 40 minutes.

Serve immediately.