Panettone Bread Pudding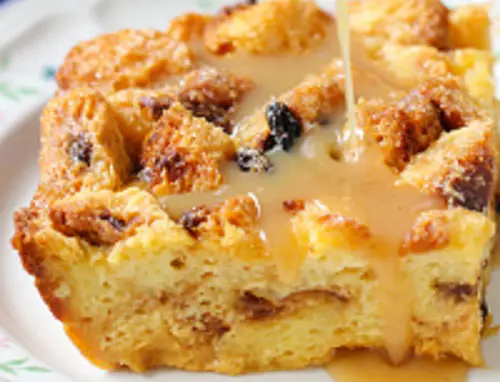 Ingredients
for the bread pudding
16 oz (450 g) panettone, cut into 1 inch (2.5 cm) cubes

½ c (100 g) dried cranberries

½ 

c arancello + 1 additional tbsp — Grand Marnier may be substituted

4 whole eggs

3 egg yolks

⅓ cup sugar

2 cups heavy cream

1 cup half-and-half

pinch of salt

¼ tsp nutmeg

zest of 1 orange

butter cut into chunks
for the orange sauce
1 stick (½ cup, 113 g) butter

⅓ c sugar

arancello reserved after soaking the dried cranberries in Step 1 — ¼ to ⅓ cup

juice of 1 orange

⅛ tsp salt

1 egg, beaten
Directions
At least 30 minutes before you begin, combine the dried cranberries in a bowl with 1/2 cup of arancello. Once fully soaked and needed in the recipe, drain and be sure to reserve the excess arancello for use in the orange sauce – Step 15.

Liberally butter a 9 X 13″ (23 X 33 cm) baking dish.

In a large mixing bowl, add 1 tbsp arancello, the eggs, and sugar. Whisk to dissolve the sugar.

To the same bowl, add the heavy cream, half-and-half, salt, nutmeg, and orange zest. Mix until fully combined.

Spread an even layer of the cubed panettone into the prepared banking dish.

Drain the cranberries, reserving the liquid for use in the orange sauce. Sprinkle the cranberries over the top of the bread cubes in the baking dish.

Give the custard mixture one last whisking before pouring it over the contents of the baking dish.

Cover the dish with foil and refrigerate for at least a couple of hours or overnight.

Once the dish has rested, pre-heat the oven to 350˚ F (175˚ C).

Remove the foil cover and place the baking dish in an even larger pan on the oven's center rack.

Pour hot water into the larger pan until it reaches halfway up the side of the baking dish. Do not allow any water to get into the baking dish.

Tent the larger pan with foil. Cut a few holes in the foil to vent any steam that may develop.

After 30 minutes, remove the foil tent.

Continue to bake the pudding until the custard is set and the top is browned — about 30 to 45 minutes.

Pull from the oven, remove from the water bath, cover with foil, and allow to rest for 15 minutes.

While the pudding rests, prepare the orange sauce.

In a small sauce pan over medium heat, add the butter, sugar, arancello, orange juice, and salt. Stir and heat until the sugar is melted and the sauce fully heated.

In the bowl containing the beaten egg, stir the egg as a few tablespoons of the heated sauce is added. (This will temper the egg.)

Once tempered, add the eggy mixture to the sauce, whisking all the while to prevent the egg becoming scrambled.

Once fully incorporated, continue to whisk the sauce until it thickens — 2 to 3 minutes. Do not allow to boil.

Bring the bread pudding to the table and drizzle a little of the orange sauce atop each serving.