Sicilian Pizza, or Sfincione
Sicilian Pizza, or Sfincione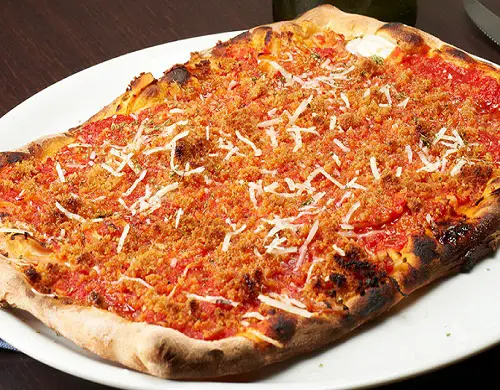 INGREDIENTS
2 medium yellow onion, sliced

10 black olives, pitted and sliced

6 anchovies fillets, finely chopped

1 28oz can of diced tomato

8 ounces caciocavallo cheese

1/2 cup of bread crumbs, toasted

1 Tbls of dried oregano

1/4 cup of extra virgin olive oil

PREPARATION

In a small frying pan sauté onions until brown and tender.

Rub a little oil on a cookie sheet or pizza pan.

Gently shape the dough into a round or square shape

Push the pieces of anchovy, olives and onions into the top of the dough. I just use the back of a knife to accomplish this.

Spread the tomatoes all over the top.

Sprinkle with the cheese, oregano and breadcrumbs.

Cover it up an let it sit for 2 hours to rise into a thicker dough.

Pre-heat oven to 425 degrees

Bake for 30 minutes and drizzle the remaining olive oil over the top before serving.