Baked Chicken Parmesan Sandwiches
Baked Chicken Parmesan Sandwiches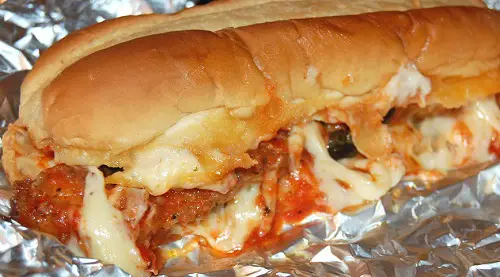 Ingredients
4 thin chicken breast cutlets

1 egg, beaten

1 cup Italian breadcrumbs

1/4 cup grated parmesan cheese

2 tablespoons butter

2 tablespoons olive oil

1 cup prepared marinara sauce, divided

1 cup shredded mozzarella cheese, divided

1 cup sliced pepperoni marinara cheese (or just pepperoni slices if you can't find the cheese)

8 basil leaves

4 hoagie rolls

4 sheets heavy-duty aluminum foil

Cooking spray
Directions
1. Season chicken cutlets with salt and pepper. Combine bread crumbs and parmesan cheese; dip cutlets in egg, then in bread crumb mixture. Melt the butter and olive oil in a large skillet. Working in batches, cook the chicken cutlets until browned and crispy.
2. Spray each sheet of aluminum foil lightly with cooking spray. Add the bottom of a roll to each sheet. Top each with 1/4 cup shredded mozzarella, a chicken cutlet, 1/4 cup of marinara, the pepperoni marinara cheese or pepperoni, and two basil leaves. Add the roll top. Wrap loosely, being sure all of the edges are sealed.
3. Cook sandwiches on a baking sheet in a 350-degree oven for 30 minutes. Let stand 5 minutes before unwrapping.