Lemon Yogurt Sugar Muffins
Lemon Yogurt Sugar Muffins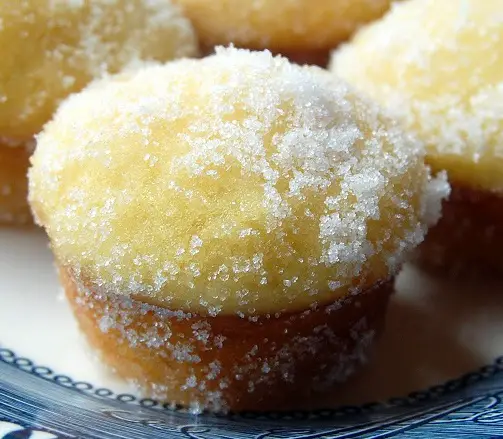 Ingredients
1/4 cup fresh-squeezed lemon juice

3/4 cup milk

2 cups all-purpose flour

1/2 cup sugar

2 1/2 teaspoons baking powder

1/2 teaspoon salt

1/4 cup butter, melted

1 egg, slightly beaten

1/2 cup lemon yogurt

1 teaspoon lemon zest

1 teaspoon vanilla extract

2 tablespoons melted butter

Sugar
Directions
1. Preheat oven to 400 degrees. Grease a mini muffin pan.
2. In a large mixing bowl whisk together flour, sugar, baking powder and salt. In a separate large bowl stir together milk, lemon juice, 1/4 cup butter, egg, yogurt, lemon zest and vanilla (don't worry if it looks clumpy or curdled).
3. Make a well in center of dry ingredients and add wet, stir just to combine. Spoon batter or use an ice cream scoop to fill muffin pan. Bake 12-14 minutes or until a toothpick comes out clean.
4. Cool pans on wire racks 5 minutes, then turn out and brush tops with melted butter. Dip or roll in sugar while still warm. Best eaten immediately. If they cool off and become sticky roll in sugar again.