Baked Mostaccioli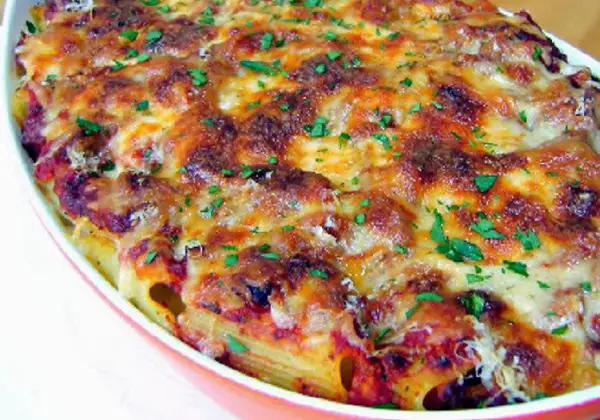 Ingredients:
Yield: 4 to 6 servings
1 teaspoon olive oil

1/2 pound mild Italian sausage

3 (8-oz.) cans unseasoned tomato sauce

1 teaspoon garlic powder

1 teaspoon onion powder

1 teaspoon dried oregano

1/2 teaspoon ground black pepper

1 pound mostaccioli

3 cups shredded mozzarella cheese
Directions:
1) Preheat oven to 350 degrees F. Grease a 13 x 9 x 2-inch baking pan.
2) Heat olive oil in a large nonstick skillet. Remove casing from Italian sausage. Add to skillet and brown.
3) Add tomato sauce, garlic powder, onion powder, oregano and black pepper to skillet. Stir to mix well. Bring contents of skillet to a boil, reduce heat and simmer, covered, for 10 minutes.
4) Meanwhile, cook mostaccioli according to package directions. Drain.
5) Place half of cooked pasta in baking pan, making sure bottom of pan is completely covered. Cover with half of tomato sauce and half of cheese. Create another layer using remaining mostaccioli, tomato sauce and cheese.
6) Bake, covered, for 25 to 30 minutes, or until top layer of cheese is completely melted. If desired, brown under broiler. Serve immediately.