Baked Shrimp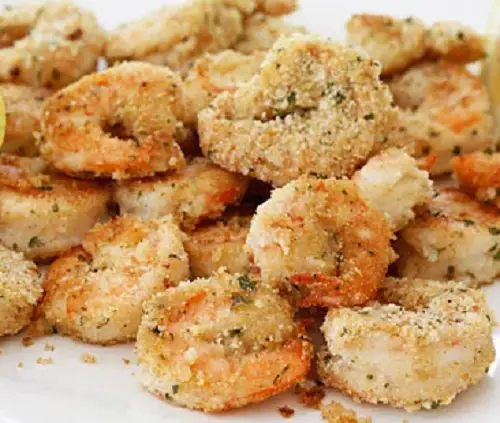 INGREDIENTS
2 pounds of jumbo prawns

1 cup of seasoned bread crumbs

2 cloves of garlic, finely chopped

1/2 cup of parsley

1/2 tsp of salt

1/2 tsp of fresh ground black pepper

2 eggs

1/4 cup of milk

1/4 cup of olive oil

1/4 cup of fresh lemon juice

PREPARATION

Peel and devein the shrimp leaving the tail on.

In a large bowl combine the garlic, parsley, salt and pepper and breadcrumbs.

In another bowl whisk together the eggs and milk.

Toss the seafood in the egg mixture to coat.

Dredge them in the breadcrumb mixture.

Pre-heat the oven to 400 degrees.

Place them in a buttered baking dish.

Whisk the olive oil and lemon together and drizzle over the shrimp.

Bake for 20 minutes turning once until brown and crisp.

Serves around 6 to 8 people.