Vegetable Fritto Misto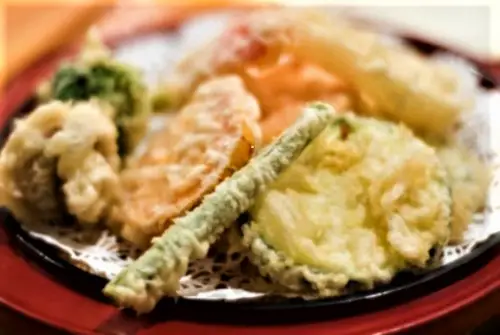 INGREDIENTS
1/2 cup of all purpose flour

1/2 cup of semolina flour

2 tsp of baking powder

1 tsp of salt

1 cup of cold water

3 Tbls of extra virgin olive oil

6 cups of vegetable oil for deep frying

15 cauliflower florets

1 zucchini, sliced into circles

1 pound of baby portabella mushrooms, cut in half

1 medium yellow onion, sliced into rings

8 baby artichokes, trimmed, quartered and soaked in water with lemon.

8 asparagus spears

Season with salt and fresh ground black pepper

PREPARATION

In a medium size bowl, mix together the flours, baking powder and salt.

Slowly mix in the water and oil to make the batter.

In a large pot heat the vegetable oil to 370 degrees.

Dip the vegetables into the batter and deep fry until golden brown.

Drain on a paper towel.

Season with salt and pepper while hot.
http://www.great-chicago-italian-recipes.com/fritto_misto.html