Tuna Salad Recipe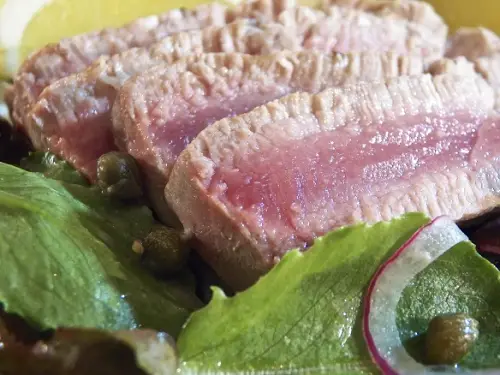 Ingredients
1 tuna steak per serving

mixed salad greens

1 tsp capers per serving, more if desired

red onion, thinly sliced

olive oil

lemon juice

salt & pepper, to taste

lemon wedges for serving

whole anchovy fillets (optional)
Directions
Place salad greens in a large bowl. Add onion & capers, dress with olive oil and fresh lemon juice, season with salt & pepper, and toss to combine. Set aside.

Heat the grill pan over med-high heat. Lightly coat the tuna steak with olive oil and season with salt and pepper on both sides.

When the grill is hot, moisten a (paper) towel with vegetable oil and use it to lightly coat the grill surface.

Add the tuna steak to the grill pan. After 90 seconds, use a fish turner to give the steak a quarter turn.

Cook for 60 to 120 seconds and then flip the steak over.

After cooking for 60 seconds, give the steak a quarter turn. Continue cooking the steak for 60 to 90 seconds and remove from heat.

Move tuna steak to a cutting board. Cutting with the grain, carve slices no less than 1/4 inch (2/3 cm) thick.

Place salad on the serving plate and arrange tuna slices atop the salad. Garnish plate with lemon wedges and optional anchovy fillets.

Serve with crusty bread and a white wine of your choosing.