Classic Chicken Cacciatore
Classic Chicken Cacciatore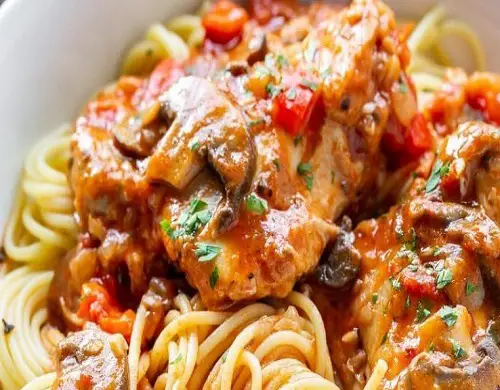 INGREDIENTS
2 whole chicken cut into pieces

1/2 cup of flour for dredging

1/2 tsp of salt

1/2 tsp of freshly ground black pepper

1/4 cup of extra virgin olive oil

1 28oz can of diced tomatoes

1 large yellow onion cut into chunks

1 green pepper cut into chunks

1 cup of porcini or Portobello mushrooms

1 15oz can of chicken broth

1/2 cup of dry red wine

1 tsp of dried oregano

1 tsp of dried basil

1 pound of spaghetti, ziti or other type of pasta

1/4 cup of fresh parsley chopped

PREPARATION

Mix salt and pepper into the flour.

Dredge the chicken in the flour.

In a large skillet sauté the chicken in batches in the olive oil until brown.

Place chicken in a large pot and add the tomatoes, broth and wine and cook for about 15 minutes.

Add the mushrooms, onions and green peppers.

Season with basil and oregano.

Cover and cook for around 45 more minutes.

In 6 quarts of water boil your pasta until al dente, around 10 minutes.

Drain the pasta.

Place the spaghetti on a large serving platter and top with the chicken and sauce. Garnish with parsley and your ready to serve. Serves 8 people.