Bean Soup with Spinach, Fresh Sage and Rosemary
Bean Soup with Spinach, Fresh Sage and Rosemary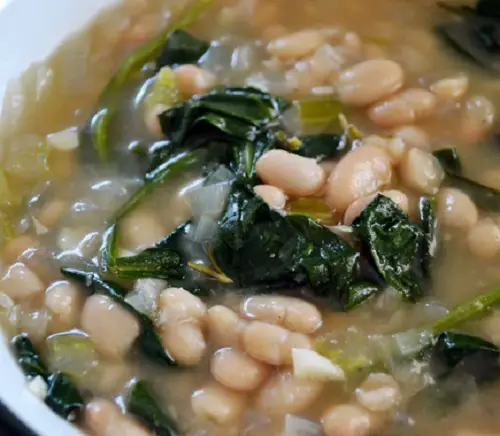 Ingredients:
Makes 8 first-course servings.
Two 15 to 16-ounce cans white beans, drained

Two 15 to 16-ounce cans chickpeas, drained

3 cups chopped onions (about 2 medium)

3 garlic cloves, minced

One 6-ounce package baby spinach leaves

1 tablespoon finely chopped fresh sage

1 tablespoon chopped fresh rosemary

5 cups chicken broth

3 tablespoons extra virgin olive oil

Grated Parmigiano cheese
Directions:
Heat 3 tablespoons olive oil in large pot over medium-high heat.

Add onions and garlic and saute until onions are golden, about 15-18 minutes.

Add rosemary and stir 1 minute.

Add chicken broth and beans.

Bring soup to a boil.

Reduce to medium-low and simmer until flavors blend, about 10-12 minutes.

Transfer soup to blender and puree until smooth.

Return to pot.

Mix in spinach and sage.

Stir until spinach wilts, about 1-2 minutes.

Season soup to taste with salt and pepper.

Ladle soup into bowls.

Sprinkle each with Parmigiano cheese.

Drizzle with extra-virgin olive oil, if desired.
.