Bread Gnocchi In Broth
(Gnocchi di Pane In Brodo)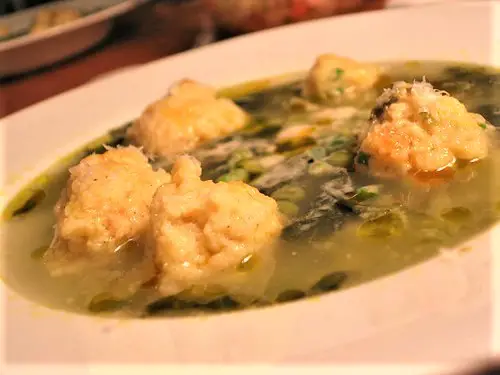 Ingredients:
Serves 4
For the Vegetable Stock:
2 celery sticks, chopped

2 carrots, chopped

1 leek, trimmed and chopped

1 onion, chopped

Salt
For the Gnocchi:
4 oz (120 grams) breadcrumbs

2 oz (50 grams) Parmigiano cheese, freshly grated (plus extra for serving)

2 eggs

1 small fresh chive, chopped

Salt and pepper
Directions:
Prepare the Vegetable Stock:
Place all the vegetables in a saucepan.

Pour in 2 and 1/2 pints (1.5 liters) water, season with salt and bring to a boil.

Lower the heat and simmer for about 45 minutes.
Prepare the Gnocchi:
Mix together the breadcrumbs, Parmigiano cheese, eggs and half the chive in a bowl and season with salt and pepper. The mixture should be thick enough so, if necessary, add more breadcrumbs.

Shape the mixture into 1/2-inch (1-cm) balls.

Cut into short lengths and slightly flatten the middle with your finger.

Strain the vegetable stock into a clean pan and return to the heat.

Add the bread gnocchi to the stock. When they float to the surface they are ready.

Ladle into a soup tureen, sprinkle with the remaining chive and serve with Parmigiano cheese on the side.