Mushroom Puffs (Sfogliatine con Funghi)
Mushroom Puffs
(Sfogliatine con Funghi)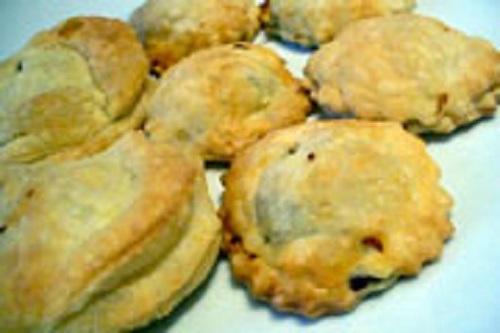 Ingredients:
Serves 6
11 oz (300 grams) mushrooms

9 oz (250 grams) puff pastry dough, thawed if frozen

6 cooked ham slices, halved

1 and 1/2 oz (40 grams) pine nuts

5 oz (150 grams) Fontina cheese, sliced

1 oz (25 grams) butter, plus extra for greasing

Juice of 1 lemon, strained

Plain flour, for dusting

1 egg yolk, lightly beaten

Salt and pepper
Directions:
Preheat the oven to 200°C (400°F)

Lightly grease a baking sheet with butter.

Slice the mushrooms and sprinkle with the lemon juice.

Melt the butter in a frying pan.

Add the mushrooms and cook over a medium heat, stirring frequently, for about 7-8 minutes until tender.

Roll out the pastry on a lightly floured surface to 1/8 inch (3 mm) thick.

Stamp out 4-inch (10-cm) rounds with a biscuit cutter or a glass.

Spread out the half-slices of ham and put a few slices of mushroom, a few pine nuts, a strip of Fontina cheese and a pinch of salt and pepper on each.

Fold in the sides to enclose the other ingredients.

Lay a ham bundle in the middle of each pastry round.

Fold the pastry over and crimp the edges to seal.

Arrange the puffs on the prepared baking sheet.

Brush with the egg yolk and bake for about 15 minutes or until golden brown.