Beef Barley Soup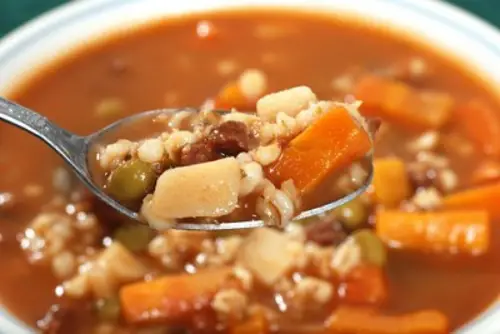 INGREDIENTS
Serves 4 to 6 people
2 Tbls of extra virgin olive oil

1 Tbls of butter

2 pounds of boneless beef chuck roast, trimmed and cut into 1 inch pieces.

1 large yellow onion, diced

2 carrots, peeled and diced

2 stalks of celery, diced

2 cloves of garlic

1 large white potato, peeled and diced

1/2 cup red wine

2 15oz cans of diced tomatoes

1 can of peas, drained

4 cups of beef broth

1 cup of water

1/2 cup of barley

1 Tbls of fresh thyme or 1/2 Tbls of dried

1/4 cup of fresh Italian flat leaf parsley

2 bay leaves

1 tsp of salt

1 tsp of fresh ground black pepper
PREPARATION
Heat the oil and butter in a large frying pan.

Add the beef and sauté for 2 to 3 minutes.

Stir in the onions, carrots, celery, garlic and potato and cook for 2 to 3 minutes more.

Deglaze the pan with the red wine.

Place all the ingredients into a crock pot.

Add the tomatoes, peas, beef broth, water, barley, thyme, parsley and bay leaves.

Season with salt and pepper and cook on high for 3 to 4 hours or until all the meat is nice and tender.

Remove the bay leaves and serve with the Italian bread.