Lobster Carbonara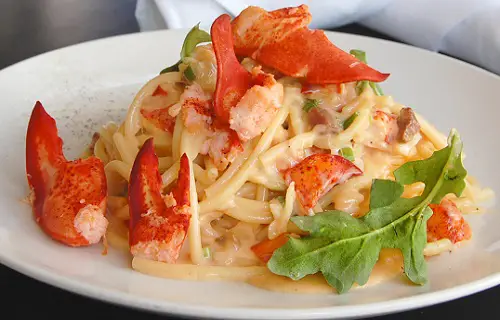 INGREDIENTS
 Serves 4
2 8-12oz. lobster tails

1/4 cup of prosciutto chopped

1/4 cup of button mushrooms sliced

2 cloves of garlic finely chopped

1 bunch of long green onions chopped

1 can of sweet peas

4 eggs

3 Tbls of butter

1/2 cup of heavy whipping cream

1 cup of freshly grated Parmesan cheese

1/4 cup of chopped parsley

1/4 tsp of salt

1/4 tsp of freshly ground black pepper

1 pound of linguini
PREPARATION
Remove lobster from the shell and chop into bite size piece. Refrigerate until your ready to use. If you choose you could reserve the shells and stuff them with the carbonara mixture and serve with a vegetable side or like I prefer serve over the linguini.

In a large frying pan sauté the onions, garlic, mushrooms and prosciutto in butter for five minutes until vegetables are soft and bacon in crisp.

Stir in lobster meat and peas for another 2 minutes until lobster is white and tender. Do not over cook lobster.

season with salt and pepper.

Bring 6 quarts of water to a boil and cook the linguini for about 10 minutes until al dente. Drain the pasta and toss with the lobster and vegetable mixture

In a large bowl beat eggs and cream and stir into the hot linguini. This will prevent the eggs from over cooking. The heat from the linguini should cook the eggs enough.

Stir in Parmesan cheese and top with parsley.