Berry Crisp (fresh Berries whatever mix of berries you like)
Berry Crisp (fresh Berries whatever mix of berries you like)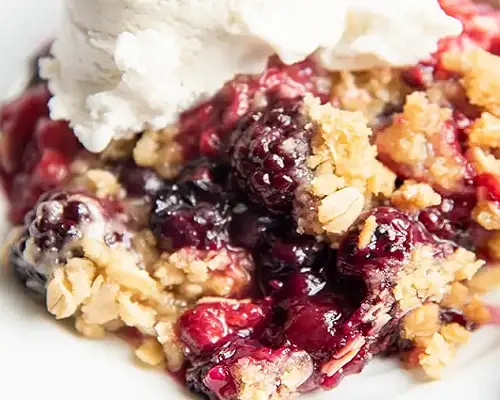 Ingredients
serves 6
Fruit Mixture:
8 cups fresh Berries whatever mix of berries you like

⅓ cup sugar

1 large lemon, zested and juiced

¼ teaspoon ground nutmeg

¼ teaspoon cinnamon

pinch of salt

1½ Tablespoons cornstarch
Topping:
1 cup rolled oats (I use regular but you can use quick-cooking if you want)

⅓ cup brown sugar

½ cup whole wheat flour  (I prefer whole wheat for a richer taste, but you can use regular AP flour)

½ cup butter (1 whole stick), cut into slices
Directions
Preheat the oven to 350° F.
Make the fruit mixture:
Place the berries in a large bowl.

Add the sugar, lemon zest, nutmeg, cinnamon and salt and toss gently.

 Place the cornstarch and lemon juice in a small jar with a lid and shake well.

Pour over the berry mixture and gently toss again until coated.
Spray an 8×8 glass baking dish with cooking spray and add the berry mixture.
Make the crisp topping:
In a food processor, add the oatmeal, sugar and flour and pulse until blended.

Add the sliced butter and pulse until the mixture is well blended.  (If you don't have a food processor, you will have to do this in a bowl and use two knifes, cutting the butter into the oatmeal mixture until it is well blended.)
Assemble and bake:
Scatter the topping over the fruit.

Bake for about 45 – 50 minutes, until the topping is crisp and brown and the fruit is bubbling.

Remove from oven to let cool and set up a bit until just warm.

 Serve with vanilla ice cream on top.