Harvest Roast Chicken with Grapes, Olives and Rosemary
Harvest Roast Chicken with Grapes, Olives and Rosemary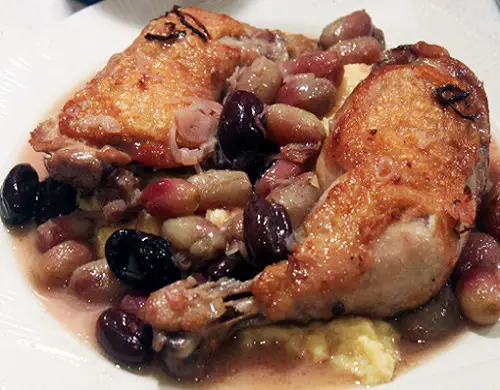 The saltiness of the olives muted the sweetness of the grapes; the sweetness of the grapes made the overly salty olives delightful; and the rosemary, it's just home.

Ingredients
3 pounds (1⅓ kg) chicken parts (thighs, drumsticks, and/or breasts), with skin and bones

Table salt

Freshly ground black pepper

1 tablespoon olive oil

1 cup (90 grams) seedless grapes

1 cup (130 grams) pitted Kalamata olives

2 small shallots, thinly sliced

½ cup (120 ml) dry white wine

½ cup (120 ml) chicken broth

1 tablespoon finely chopped fresh rosemary
Instructions:
Preheat your oven to 450 degrees with a rack in middle.

Pat chicken dry, and season generously with salt and freshly ground black pepper.

Heat oil in an ovenproof 12-inch heavy skillet (use a cast-iron skillet if you've got one) over medium-high heat until it shimmers.

Working in two batches, brown the chicken, skin side down first and turning them over once, about 5 minutes per batch. I like to take a lot of care in this step, not moving the chicken until the skin releases itself and has a nice bronze on it.

Return the pieces to the pan, skin side up, and surround the pieces with grapes, olives, and shallots.

Roast the chicken in the oven until it has just cooked through and the juices run clear, about 20 minutes.

Transfer the chicken, grapes, and olives to a platter, then add wine and chicken broth to the pan juices in skillet.

Bring liquid to a boil, scraping up any brown bits, until it has reduced by half, for 2 to 3 minutes.

Strain sauce, if desired, then pour it over the chicken.

Garnish with rosemary and see how long it takes guests to offer to slurp the sauce up with a spoon.