Roasted Squash Ravioli with Sage
Roasted Squash Ravioli with Sage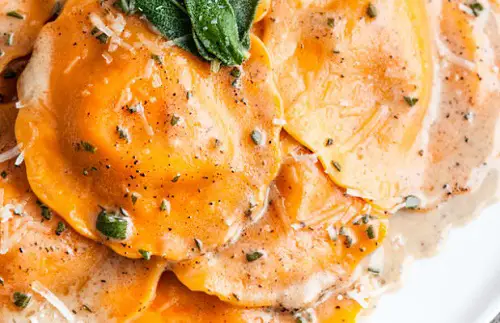 makes about 50 – 60 ravioli
Ingredients:
for the filling:
1 large butternut squash

ground nutmeg

salt and pepper

1/4 cup Parmesan cheese
for the pasta:
2 cups all purpose flour or Italian 00 flour

1 cup semolina flour

3 whole eggs

4 egg yolks
for the sauce:
1/4 cup olive oil

3 Tablespoons butter

12 whole fresh sage leaves

Parmesan cheese for grating
Instructions:
Split squash in half with sharp knife. Remove seeds. Place on baking sheet. Salt and pepper lightly. Roast in a 400 degree oven until tender, about 45 minutes to maybe even an hour. Let cool. Remove squash from the skin. Place in a mixing bowl. Make sure you mash the squash well. Add some ground nutmeg, salt and pepper to taste. Add cheese and stir. Set aside.
Make pasta dough: Place eggs in your mixer bowl. Using the dough hook, mix eggs. Gradually add in the flours**, only adding in as much as the pasta will take. You may end up not using all the flour but make sure that you use all the semolina flour.  When the dough comes together into a ball, only add the flours by the spoonful until you get a nice, firm dough that is not too sticky. Knead by hand on a floured countertop for a few minutes. Wrap in floured plastic wrap and let rest at least 20 minutes.
Cut off a section of the dough and run it through the pasta rollers at the widest setting. Fold in thirds and keep rolling it through this setting several times until the pasta is nice and smooth. Dust with flour if the dough is too sticky. Proceed to the next setting and repeat until you reach setting #4. Roll it through this setting twice and lay on a floured towel. Repeat with the next section of dough. You now have two sheets of pasta dough. Don't wait to make the ravioli at this point or to roll out the other sheets, because you don't want the dough to dry before you make the ravioli.
Lay dough on lightly floured counter. Drop small spoonfuls of the filling onto the dough. With a small brush, brush water all around the filling, where you intend to seal the ravioli. Lay the second sheet on top, pressing out the air as you go from around the filling. Seal between the filling with your fingers. Cut the ravioli with a biscuit cutter or pastry wheel. Lay on a well floured towel until all the ravioli are made.
Meanwhile, heat oil and butter in a large skillet. Gently fry sage leaves. Keep warm until ravioli are finished.
Bring a large pot of salted water to a gentle boil. Add ravioli in batches. Boil gently for three minutes. Remove with a slotted spoon or spider and add to skillet, coating gently with sauce. When all ravioli have been cooked and added to skillet, gently transfer to serving bowl and grate cheese over.