Braised Apple Cider Pork Chops Recipe
Braised Apple Cider Pork Chops Recipe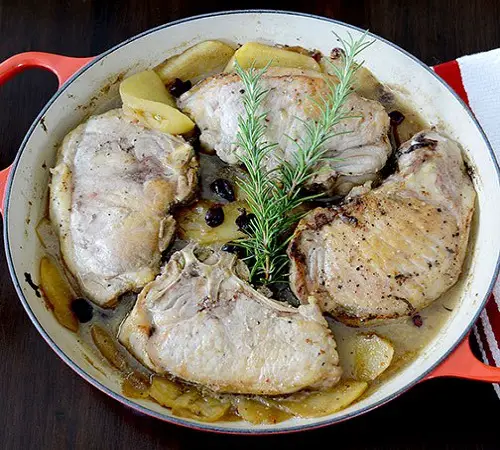 Braised Apple Cider  Pork Chops Recipe Instructions
by GourmetFoodStore.com

Ingredients
Prep Time:
Cook Time:
Total Time:
Yield: 4 servings
4  Pork Chops

Sea Salt and Pepper, to taste

2 tablespoons extra virgin olive oil

1 large shallot, diced

2 tablespoons honey

1 teaspoon Old-Fashioned Mustard

4 Granny Smith apples, peeled, cut into wedges

¼ cup dried cranberries

1 cup of Apple Cider beer

2 twigs of rosemary (optional, for garnish)
Directions
Season the pork chops with sea salt and pepper on both sides.

Over high heat, heat two tablespoons olive oil on a large sautee pan, add the chops and sear on both sides, 2-3 minutes each side. Remove and reserve.

On the same pan, reduce the heat to medium-low, add the shallots, honey and mustard, and cook until soft, stirring occasionally. Add apples and cranberries, and mix gently, then raise the heat to medium-high and return the pork to the pan. Add the hard cider, stirring occasionally until the apples slightly soft (but not mushy), about 5-8 minutes.

Remove from heat, rest for 2-3 minutes, serve.