Sea Scallops Cacciatore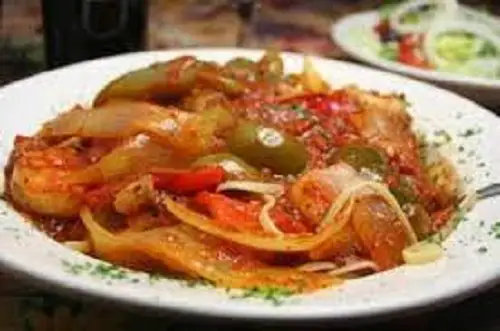 INGREDIENTS
4 Tbls of extra virgin olive oil

1 Tbls of butter

1 red bell pepper, sliced into thick strips

1 green bell pepper, sliced into thick strips

1 yellow onion, sliced

4 cloves of garlic, chopped

1 15oz can of diced tomatoes

1/2 cup of white wine

1 bay leaf

1 lb of scallops

1/2 tsp of salt

1/2 tsp of fresh ground black pepper

1/4 cup of fresh flat leaf Italian parsley, chopped

PREPARATION

In a large frying, sauté the peppers, onions and garlic in 2 Tbls of olive oil until slightly tender.

De-glaze the pepper mixture with the wine. (Add the wine, turn up the heat and cook until the wine is reduced in half.)

Lower the heat and add the tomatoes and the bay leaf/

Cook covered for 5 to 10 minutes.

Remove the bay leaf

Thoroughly wash the scallops and pat dry with a paper towel.

In another frying pan heat the remaining 2 Tbls of olive oil and butter.

Season the scallops on both sides with the salt and pepper.

Pan sear the scallops for 2 to 3 minutes on each side until the tops are golden and crisp.

Plate the scallops and top with the cacciatore mixture.

Garnish with parsley and serve with Italian bread.

Serves 2 people as an entree or 4 as an appetizer.