BRAISED CHICKEN LIGURIAN STYLE
BRAISED CHICKEN LIGURIAN STYLE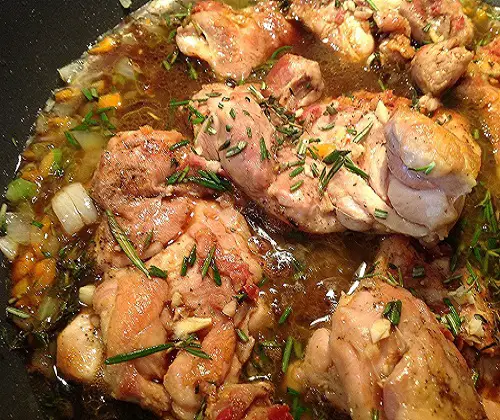 Ingredients
Serves: 3-4
Prep: 20 minutes
Cook: about 50 minutes
3 Tbsp. Olive Oil

1/3 C. Chopped Pancetta (Tip: easier to chop when partially frozen)

6 Chicken Thighs ( I like to use skinless and boneless)

1 Medium Onion – chopped

About 7 baby carrots – chopped

1 Stalk of celery – chopped

1 Clove Fresh Garlic – chopped finely

1 Tbsp. Fresh Thyme leaves – chopped

2 Tbsp. Fresh Rosemary leaves – chopped

1 C. Marsala Wine ( I prefer dry Marsala in this) – found at most grocers or liquor stores

1/3 C. Chicken stock or broth

1/2 lb. Mushrooms – sliced or whole – your preference

1 Tbsp. Capers – rinsed and drained

1 Tbsp. Pignoli

(Many recipes use olives in this dish. If you want to add them – about a 1/2 c. is fine)
Instructions
In the Olive Oil, cook the pancetta about 3 minutes.

Sprinkle the chicken pieces with salt and pepper and add to the pan, browning on both sides.

Remove the chicken to a platter.

To the same pan, now add the onion, carrots and celery – cook about 5 minutes to soften.

Add the garlic, thyme, and rosemary, and return the chicken to the pan.

Pour in the wine and cook on Medium high until the sauce reduces by 1/2.

Add the stock or broth and mushrooms.

Cover the pan, reduce heat, and continue cooking for about another 30 minutes. Half way through cook time, turn the chicken pieces over in the sauce. (If it needs more liquid, add a bit of broth)

Taste for seasoning and add salt and pepper.

In the last 5 minutes of cooking, add your capers and pignoli.