Braised Lamb Shanks with Polenta
Braised Lamb Shanks with Polenta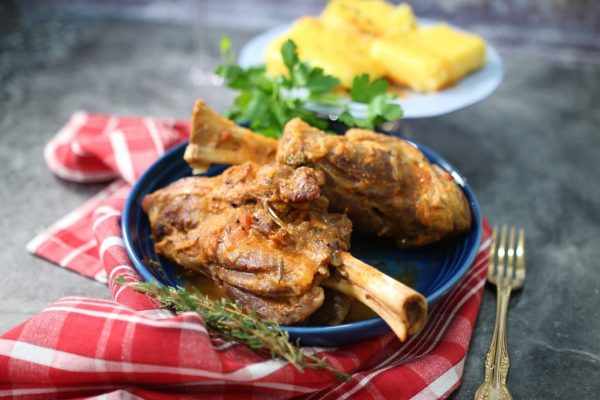 Ingredients
    3 Lamb shanks seasoned with salt and black pepper

    6 cups Chicken stock

    1/2 cup White wine dry like Chardonnay

    2 Bay leaves

    2 Tbsp. Tomato paste

    28 oz. Chopped plum tomatoes

    3 Carrots chopped

    3 Celery ribs chopped

    1 Yellow onion chopped

    12 Garlic cloves

    3-4 Rosemary sprigs

    5 Thyme Sprigs

    Extra virgin olive oil

    Salt and black pepper to taste
Instructions
    When preparing the lamb shanks, cut a few small slits into the meat and stuff with a whole garlic clove. Stuff about three to four cloves in each shank. Slice two garlic cloves and set aside.

    Preheat the oven to 350°F. Place rack into the middle position.

    Add a large drizzle of olive oil to a large dutch oven. Once it is heated, place the lamb shanks into the dutch oven to sear for a couple of minutes over a medium flame. Make sure to flip the lamb shanks over and sear all sides until they have a nice golden brown color. Remove the lamb shanks from the dutch oven and set aside.

    Add the celery, carrots, sliced garlic, and onion to the dutch oven and sauté over medium heat for about five minutes until softened.

    Add the thyme, rosemary, bay leaves and tomato paste and mix together.

    Pour in the white wine and mix together for about two minutes, allowing the alcohol to evaporate and the vegetables to absorb the flavor of the wine.

    Add the chopped plum tomatoes and season with salt and black pepper. Mix together and once it starts to boil, add the lamb shanks back into the dutch oven.

    Pour just enough of the chicken stock into the dutch oven to cover the top of the lamb shanks. Lightly mix the vegetables around to mix with the chicken stock. Once it starts to boil, place the lid on top of the dutch oven and transfer directly into the oven and let cook for two hours.

    Remove from the oven and place the lamb shanks on a dish. With the vegetables and broth in the dutch oven you can make a gravy to serve as a topping for the lamb shanks and polenta. Scoop the vegetables and the broth into a mesh strainer over a large bowl. Mash the vegetables around into the strainer to release the flavors into the gravy.

    Homemade polenta is a great side to make to go with these tasty, tender lamb shanks. Serve with a drizzle of gravy on top of the lamb shanks and polenta and enjoy! Salute and cin cin!