Spaghetti with Cuttlefish and Asparagus
Spaghetti with Cuttlefish and Asparagus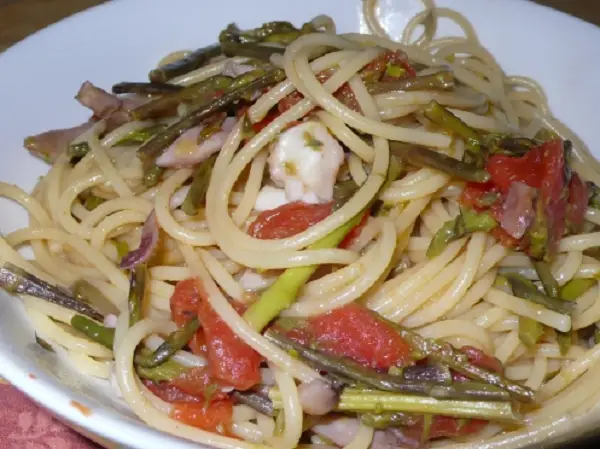 Ingredients
    320g (scant pound) spaghetti

    300g (1/2 pound) asparagus

    2 mature tomatoes (remove skins and seeds, easy to do by blanching in boiling water and transferring to an ice bowl), cut into slivers

    1 clove of garlic

    4 small seppie (cuttlefish), cleaned

    60g extra-virgin olive oil

    Salt and pepper to taste
Directions
Fill a large pot with water for the pasta. Bring to a boil over high heat.

Clean the seppie and cut them into strips. Clean the asparagus, snapping off the woody ends and snap them into 1-inch pieces.

Heat oil in a wide saucepan over medium-high heat and add the garlic and the seppie and cook for a few minutes.

Add the asparagus and the tomato, salt and pepper to taste and cook for another couple of minutes.

Once the water starts to boil for the pasta add a small handful of salt to the water and bring to a rolling boil. Add the spaghetti and cook until al dente.

When the spaghetti is perfectly al dente, reserve a cup of the pasta water in case the spaghetti dries out when tossing it.

Without shaking all of the water out of the colander pour the spaghetti into the pan and toss it over the flame with the sauce.

This allows for the pasta to cook a little longer in the sauce and to absorb the flavor.

Serve immediately.