Braised Lentils with Swiss Chard and a Poached Egg
Braised Lentils with Swiss Chard and a Poached Egg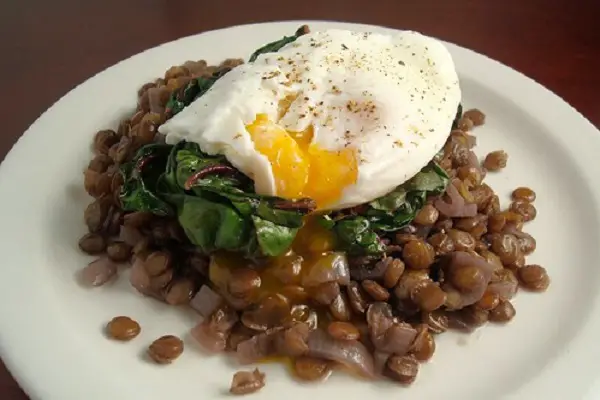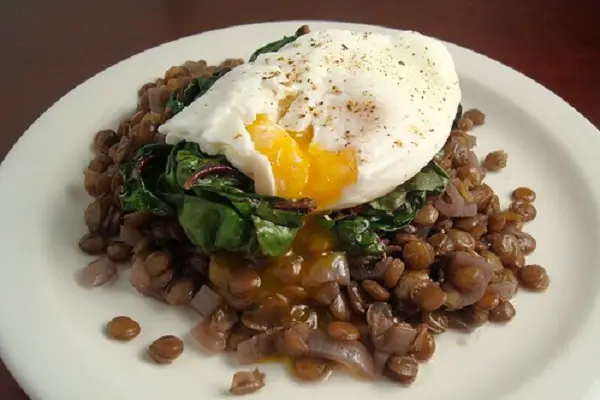 Ingredients
Makes 2 servings
3 tablespoons olive oil, divided

1/2 cup green lentils

1 bunch winter greens, such as kale, chard, collards, etc. (I used swiss chard)

1 shallot, peeled and chopped

1/2 cup red wine

2 cloves garlic, chopped

1/8 teaspoon red chili flakes, or to taste

Splash of lemon juice or sherry vinegar

Kosher salt and black pepper

2 eggs
Directions
In a medium saucepan, heat 1 tablespoon of the oil over medium heat.

Add the shallot and saute until soft, 2-3 minutes.

Add 1 cup water and the red wine and the lentils, bring to a boil, and simmer, covered, until the lentils are tender but not mushy, 25-30 minutes. Add more water as necessary.

Season to taste with salt.

In the meantime, wash the greens and slice the leaves away from the stems and roughly chop the leaves.

Heat 1 tablespoon of the oil, garlic, and chili flakes in a saucepan or large skillet until fragrant, then add the leaves along with 1/4 cup or so of water and a pinch of salt.

Cover, turn the heat to medium-low, and allow the leaves to steam as the water evaporates, tasting for tenderness and adding more water as necessary.

Finish with lemon juice or vinegar to taste if desired.

When the lentils and greens are nearing completion, poach the eggs in simmering water.

 Serve the greens on a bed of lentils, topped with the egg and fresh black pepper.