Tomato Slabs Roasted with Pesto and Parmesan Cheese
Tomato Slabs Roasted with Pesto and Parmesan Cheese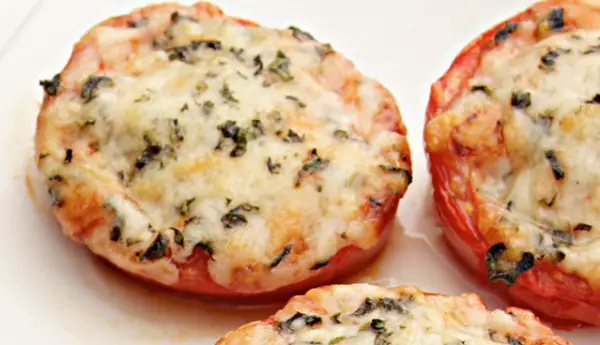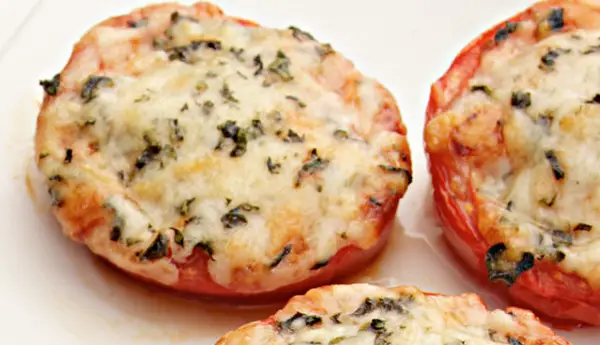 Ingredients:
Makes about 6 servings

2 to 2 1/2 pounds large red tomatoes

    3 tablespoons good quality olive oil

    2 teaspoons dried oregano

    Kosher salt

    freshly ground black pepper

    1/2 cup pesto, homemade, or your favorite store bought

    1/2 cup freshly grated Parmesan cheese (or Romano, or Mozzarella)
Directions
Position oven rack in middle of oven, and preheat the oven to 425˚ (F)

Core the tomatoes and slice them horizontally (through the equator) into 1/2 inch-thick slices.

Place them in a single layer on a sheet pan lined with baking parchment for easy clean up.

 Drizzle the tomatoes with the olive oil and sprinkle with the oregano, a light sprinkling of salt, and generous grinds of freshly ground black pepper.

Bake the tomatoes for 5 to 7 minutes.

Remove from the oven, spread each slice with a layer of pesto, and sprinkle with the Parmesan cheese.

Return the tomatoes to the oven and continue baking for 5 to 7 minutes, until the Parmesan is melted.

 With a flat metal spatula arrange the tomatoes on a serving platter.

May be served hot, warm, or at room temperature.  Enjoy!
As shared from the kitchen of Once Upon a Plate by Mari