BRAISED RADICCHIO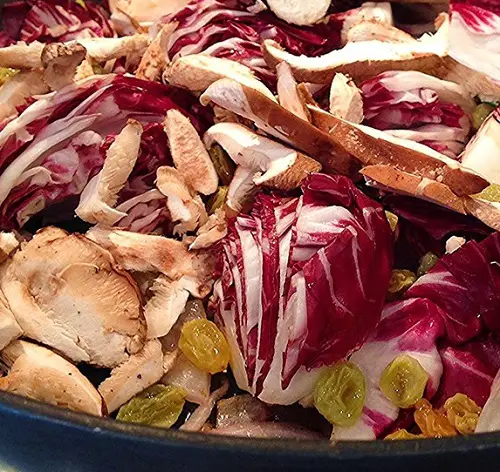 Ingredients
Serves: about 4
Prep: 15 minutes
Cook: 15 minutes
4 Tbsp. Olive Oil

4 Heads Radicchio, cleaned and quartered lengthwise

Finely Sliced Red Onion

1/3 C. Golden Raisins, soaked for about 1/2 hour in warm water and then drained

A couple of Sprigs Fresh Rosemary

3/4 C. Wild Mushrooms – tiny ones if possible or slice the larger ones

1 Tbsp. White Wine Vinegar

Splash Dry White Wine

Pinch sugar

Kosher Salt and Pepper to taste

Gorgonzola crumbled into bits for topping – Try to avoid the prepackaged Gorgonzola which is dry.

Drizzle of Extra Virgin Olive Oil if desired to finish
Instructions
Rinse your radicchio and cut off the bottom root area – quarter the heads.

Heat the olive oil in a pan and cook the onion until just tender – about 4 minutes.

Then add the vinegar, wine, sugar, and salt and pepper to taste. Stir.

Add the radicchio, rosemary, drained raisins, and mushrooms. Add water and and season to taste with Salt and Pepper.

Cover the pan and let simmer for 8-10 minutes. Check after 8 minutes.

Place in a serving dish or individual plates and top with Gorgonzola. Drizzle with Extra Virgin if desired  – and serve!