Braised Short Ribs Côtes du Rhône
Braised Short Ribs Côtes du Rhône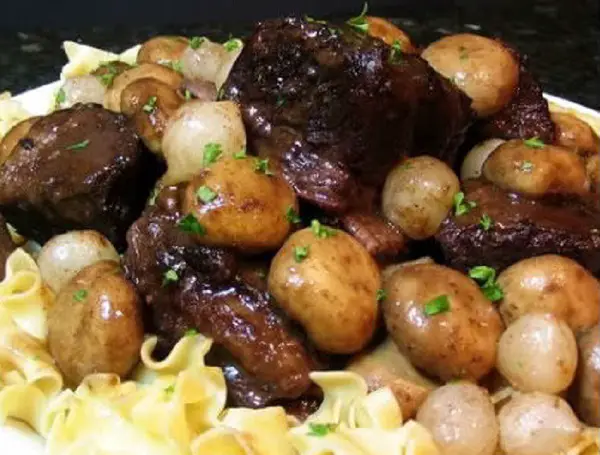 Ingredients:
Yield: 6 servings
1 bottle Côtes du Rhône or other full-bodied red wine

2 large carrots, peeled and coarsely chopped

1 very large yellow onion, peeled and coarsely chopped

6 cloves garlic, peeled and crushed

4 parsley sprigs

4 thyme sprigs

1 bay leaf

8 slices thick cut smoked bacon, diced

12 beef short ribs, trimmed

Salt and pepper

1/3 cup flour

2 cups beef stock

1 pound small mushroom caps

1/2 cup frozen pearl onions, thawed

1 tablespoon grainy mustard

1 tablespoon cornstarch (optional)

2 tablespoons chopped parsley
Directions:
1) Place wine in a large saucepan. Bring to a boil over medium-high heat. Remove from heat; add carrots, onions, garlic, parsley sprigs, thyme sprigs and bay leaf. Cool to room temperature. Place the short ribs in a shallow baking dish large enough to hold the ribs in a single layer. Pour the marinade over the ribs, cover and refrigerate for 24 hours.
2) Fry the bacon in a large saute pan until lightly browned. Drain on paper towels. Set pan containing bacon dripping aside.
3) Preheat oven to 300 degrees F. Remove ribs from marinade. Liberally season with salt and pepper and dredge all sides in flour. Heat skillet containing bacon drippings until almost smoking. Brown ribs, in two batches, until deep brown, about 5 minutes per side. Transfer to a large roasting pan. Pour marinade and beef stock into skillet and bring to a boil; add half the bacon. Pour over ribs. Cover pan with foil and bake for 3 hours. Transfer ribs to a baking sheet; top with mushrooms and onions. Return pan to oven but leave door ajar.
4) Strain braising liquid into a large saucepan. Boil juices until reduced by half. If too thin, dissolve cornstarch in a small amount of stock or water and add to sauce, stirring until thickened. Stir in mustard. Adjust salt and pepper to taste. Pour sauce over ribs and continue baking for 20 minutes longer. Warm bacon. Lift ribs and vegetables from sauce and place on a platter lines with hot noodles. Top with reserved bacon and chopped parsley. Pass extra sauce at table.