Sausage and White Bean Stew
Sausage and White Bean Stew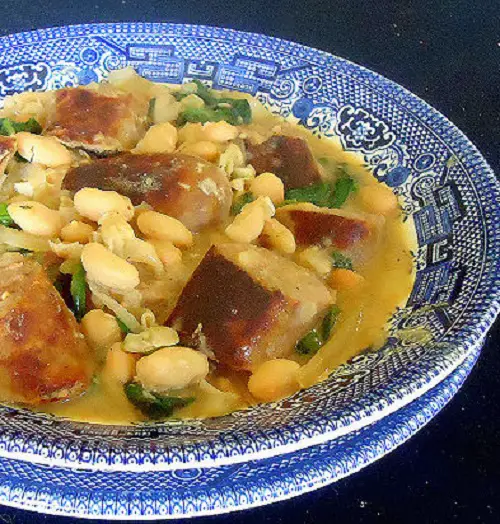 Ingredients:
Yield: 4 servings
2 tablespoons olive oil, divided, plus more for drizzling

1 pound fresh Italian sausage links

1 large onion, thinly sliced

4 garlic cloves, finely chopped

1 sprig thyme

2 (15-ounce) cans Great Northern or cannellini (white kidney) beans, rinsed

2 cups low-sodium chicken broth

Kosher salt, freshly ground pepper

1 teaspoon apple cider vinegar

5 ounces baby spinach (about 10 cups)

Smoked paprika
Directions:
1) Heat 1 tablespoon oil in a large skillet over medium heat. Add sausage and cook, turning occasionally, until browned and cooked through, 15-20 minutes. Transfer sausage to a plate.
2) Reduce heat to medium. Heat remaining 1 tablespoon oil in same skillet. Add onion, garlic, and thyme sprig. Cook, stirring occasionally, until onion is softened, 5-8 minutes. Add beans and broth and cook, crushing a few beans with the back of a spoon to thicken sauce, until slightly thickened, 8-10 minutes. Season with salt and pepper. Stir in apple cider vinegar. Add spinach by handfuls and cook just until wilted, about 2 minutes.
3) Slice sausage and fold into stew; add water to thin, if desired. Divide stew among bowls; drizzle with oil and sprinkle with paprika, if desired.