Breaded Mushrooms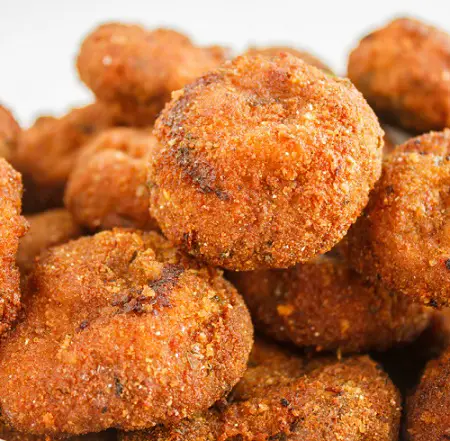 INGREDIENTS
1 pound of white button mushrooms or baby Portobello mushrooms

1cup of flour for dredging

2 eggs

1/4 cup of milk

1 cup of seasoned bread crumbs

1/2 cup of fresh grated Parmesan or Romano cheese.

1/ cup of vegetable oil
PREPARATION
Clean the mushrooms with a damp paper towel.

Cut so each piece is proportioned.

Dredge the mushrooms in the flour.

In a medium size bowl, whisk together the eggs and milk.

Dip the mushrooms in the egg mixture.

In another medium size bowl, mix together the cheese and breadcrumbs.

Coat the mushrooms with the breadcrumb mixture.

Heat a large frying pan and add the oil.

When the oil is hot, fry the mushrooms turning once until golden brown.

Drain on a paper towel.

Season with salt and pepper to taste.

NOTE: I usually grate more cheese on top. Serves 4 people.