Breaded Porcini Mushrooms
Breaded Porcini Mushrooms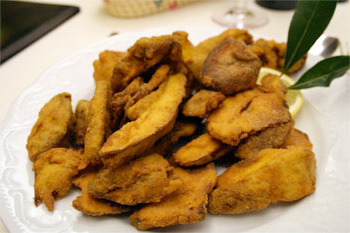 INGREDIENTS
8 porcini mushrooms, cut into 1/2 inch slices ( use fresh porcini mushrooms for this recipe but dried will work just fine. On order to prepare dried porcini mushrooms you must steep then in boiling water until they are reconstituted.

1/2 cup of flour for dredging

2 eggs, beaten

1/4 cup of milk

1 cup of seasoned bread crumbs

1/4 cup of fresh grated parmesan cheese

1/2 tsp of salt

1/2 tsp of fresh ground black pepper

Vegetable oil for frying

PREPARATION

Wash the mushrooms and dry thoroughly.

In a small bowl coat the mushrooms with the flour.

In another bowl whisk together the eggs and milk.

In a third bowl mix together the bread crumbs, cheese, salt and pepper.

Dip the mushrooms in the egg mixture and then the breadcrumbs.

Refrigerate for about an hour before frying.

Fry the mushrooms until golden brown and drain on a paper towel.