Stuffed tomatoes with Italian sausage
Stuffed tomatoes with Italian sausage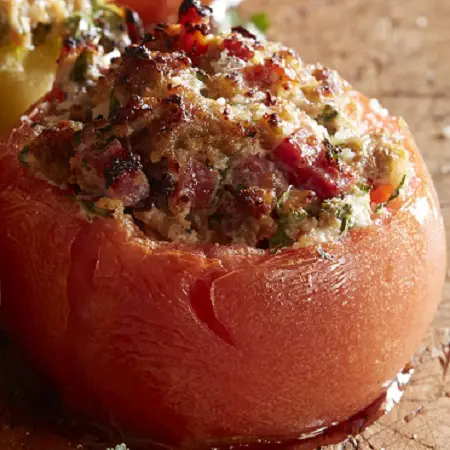 INGREDIENTS
Serves 6
6 medium sized tomatoes

1/2 pound of ground beef

1/2 pound of Italian sausage

3 slices of Italian bread broken into small pieces

1/2 cup of instant rice

1 bunch of long green onion chopped

1 small green bell pepper chopped

2 cloves of garlic chopped

1 Tbls of butter

1 Tbls of extra virgin olive oil

1/4 cup of freshly grated romano cheese

1/2 cup of tomato sauce

10 fresh basil leafs chopped

1/4 tsp of dried oregano

1/4 tsp salt

1/4 tsp fresh ground black pepper

 shredded mozzarella
PREPARATION
Wash the tomatoes, cut the tops off and spoon out pulp. Reserve the pulp in a small bowl.

Remove sausage from the casing and fry with the ground beef until done.

Drain the sausage and beef mixture on a paper towel and wipe the pan clean.

Add butter and oil to the pan and sauté the garlic, onions, tomato pulp, and green pepper for about 2 minutes.

Cook rice according to package directions.

Add cooked meat, oregano, basil, salt and pepper for 2 minutes.

Add cooked rice and stir in tomato sauce, bread and romano cheese.

Pre-heat oven to 350 degrees.

Cool the mixture a little then stuff the tomatoes.

Place tomatoes in a casserole dish and top with mozzarella cheese.

Cover and bake for 20 minutes.