Breakfast Italiano – Light-hearted approach to Breakfast (Colazione)
Breakfast Italiano – Light-hearted approach to Breakfast (Colazione)
*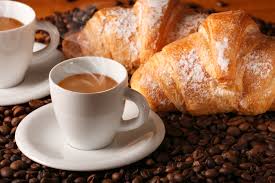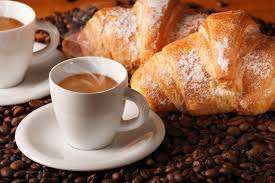 Breakfast is the first meal of a day. The word in English refers to breaking the fasting period of the prior night. There is a strong tendency for one or more "typical", or "traditional", breakfast menus to exist in most places, but the composition of this varies widely from place to place, and has varied over time, so that globally a very wide range of preparations and ingredients are now associated with breakfast.
Italian meal structure is typical of the Mediterranean region and different from meal structure of Northern Europe / Northwestern Europe and Germanic and Slavic Europe, though it still often consists of breakfast, lunch, and supper. However, much less emphasis is placed on breakfast, and breakfast itself is often skipped or involves lighter meal portions than are seen in other non-Mediterranean Western countries. Late-morning and mid-afternoon snacks, called merenda (plural merende), are also often included in this meal structure. Italians also commonly divide a celebratory meal into several different courses.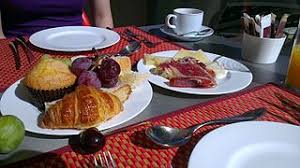 *
Italian breakfast (prima colazione) consists of caffè latte (hot coffee with milk) or coffee with bread or rolls, butter and jam. A cookie-like rusk hard bread, called fette biscottate, and cookies are commonly eaten. Children drink hot chocolate, plain milk, or hot milk with very little coffee.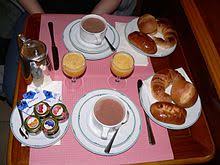 If breakfast is eaten in a bar (coffee shop), it is composed of cappuccino and cornetto (frothed hot milk with coffee and a pastry) or espresso and pastry. Other products, such as breakfast cereals, fruit salad (macedonia), muesli and yogurt, are becoming increasingly common as part of the meal. However, Italian breakfasts vary by region and by season. In some regions, such as Tuscany and Umbria, in the past, people used to drink red wine (notably Chianti) into which they would dip their biscuits.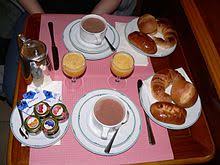 It is also very common for Italians to have a quick breakfast snack during the middle of the morning (typically a tramezzino or bread roll).
*
*
Join Joanne and Frank on Facebook at
and