Broccoli with Garlic and Anchovies
Broccoli with Garlic and Anchovies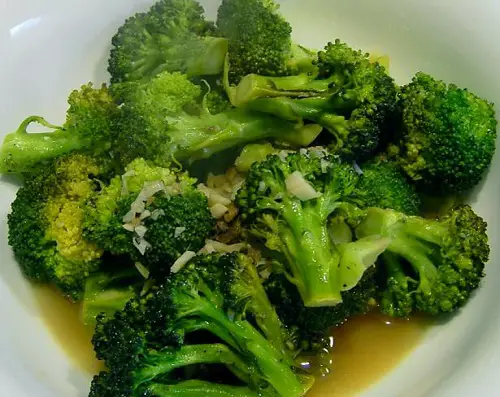 Ingredients:
Makes 6 to 8 servings.
2 pounds broccoli

1/4 cup extra virgin olive oil

3 garlic cloves, chopped

3 flat anchovy fillets, mashed

Salt and freshly ground pepper to taste

3 tablespoons chopped parsley
Directions:
Cut off tough bottoms from broccoli.

Using a sharp knife or potato peeler, peel outer skin.

Divide broccoli and wash thoroughly under cold running water.

Fill a large saucepan two-thirds full with salted water.

Bring water to a boil.

Add broccoli and reduce heat.

Simmer 5 to 8 minutes or until stalks are tender.

Drain on paper towels.

Heat olive oil in a large skillet over medium heat.

Stir in garlic and anchovies.

Add drained broccoli.

Season with salt and pepper and sprinkle with parsley.

Turn broccoli gently and cook 3 to 5 minutes.

Place broccoli on a warm platter and spoon over sauce

Serve hot.