Pancetta Stuffed Potatoes
Pancetta Stuffed Potatoes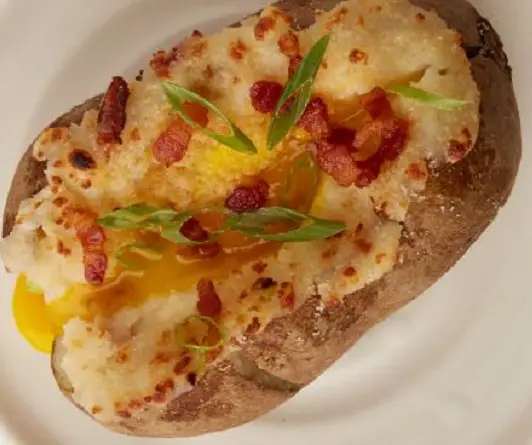 Ingredients:
Serves 6.
6 gold potatoes, scrubbed

2 cloves garlic, minced

1 tablespoon chopped parsley

1 tablespoon chopped oregano (or substitute 1 teaspoon dried)

6 short rosemary sprigs

12 thin slices pancetta

Salt and freshly ground pepper

2 tablespoons extra-virgin olive oil, plus extra
Directions: 
Preheat oven to 350° F.

Place the potatoes in a large pot, and add enough cold water to cover.

Bring to a boil, lower the heat, and simmer until fork-tender, about 15 to 20 minutes.

Drain and set aside to cool.

In a bowl, combine the garlic, parsley, oregano and rosemary.

 Season with salt and pepper, and mix well.

Cut the potatoes lengthwise without cutting all the way through.

 Place them in an oiled baking dish.

Stuff the herb mixture and 2 slices of pancetta into each of the cut potatoes.

Secure them with toothpicks, drizzle with 2 tablespoons of olive oil, and bake in the oven for 30 minutes, or until done.