Broiled Halibut with Mushroom Recipe
Broiled Halibut with Mushroom Recipe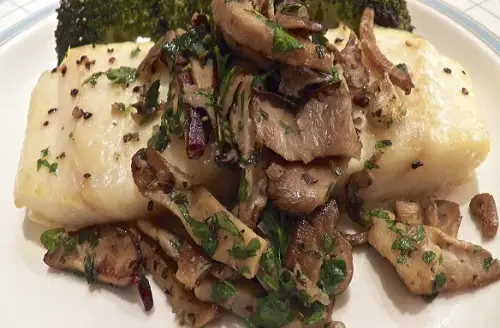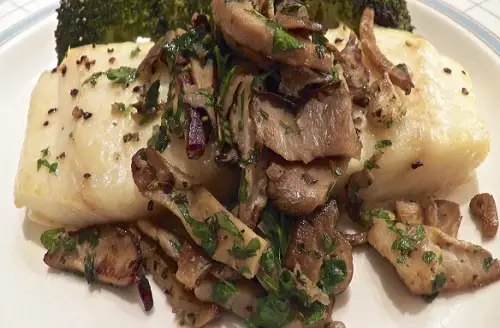 Ingredients
Halibut steak(s)

Olive oil

salt & pepper
for the mushrooms
12 oz assorted mushrooms, sliced (used here: Maitake (hen of the woods), Oyster, and Shiitake)

2 – 3 tbsp olive oil

2 shallots, chopped

1/4 cup white wine

1/2 tsp fresh rosemary, chopped

1/2 tsp fresh thyme, chopped

1/2 tsp dried marjoram

salt & pepper, to taste

1/2 cup fresh parsley, chopped
Directions
for the mushrooms
Clean and slice the mushrooms (see Notes), chop the herbs & shallots.

Heat the oil in a large frying pan over med-high heat.

Add the shallots and sauté until they soften, about a minute.

Add the mushrooms, lower the heat to medium, and continue sautéing for another 7 or 8 minutes, stirring often. Mushrooms will be ready when they have given up their liquids and darkened in color.

Add the wine, increase the heat to med-high, and sauté until wine has all but evaporated.

Add the herbs and stir to combine.

1 minute later, remove from heat, add parsley, stir throughly, and serve.
for the halibut
Lightly brush the fillet(s) with olive oil. Season with salt & pepper.

Place fillet on a lightly greased baking sheet and set aside.

Pre-heat broiler for 15 minutes. Place an oven rack about 5 inches from the heat source.

Place fillet(s) directly under the heat source and broil from 7 to 9 minutes. If more than 1 fillet is being broiled, turn the baking sheet midway through the broiling.

To test if this or any fish is cooked: use a metal skewer or sharp knife to pierce the fillet at its thickest point. Keep it there for several seconds. Remove it and use it to touch the inside of your wrist or the area beneath your lips. If cold, the fish isn't cooked. If warm, the fish is cooked rare. If hot, the fish is done. If very hot, the fish is over-done.

Serve immediately, using the mushrooms as an accompaniment.