Bruschetta Chicken Bake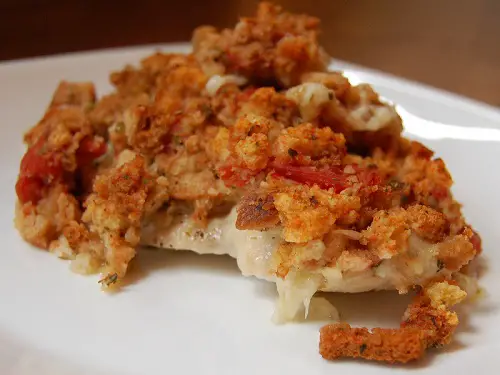 Ingredients
3 boneless skinless chicken breasts, cut in half

1 teaspoon salt

1/4 teaspoon pepper

2 cups shredded Italian cheese blend

1 tablespoon Italian seasoning

1 14.5-ounce can Italian style diced tomatoes, undrained

1/2 cup water

1 tablespoon minced garlic

1 6-ounce box chicken-flavored dry bread stuffing mix
Directions
1. Heat oven to 400 degrees. Coat a 9 x 13-inch dish with nonstick spray. Place the cut chicken breasts in the bottom of the dish. Season with salt and pepper.
2. Sprinkle the shredded cheese over the chicken, then sprinkle the Italian seasoning over the cheese.
3. In a separate bowl combine the diced tomatoes, water, garlic and stuffing mix. Spread the stuffing mixture on top.
4. Bake uncovered for 35 minutes.