Pork Loin Chops with Roasted Garlic Cream Sauce
Pork Loin Chops with Roasted Garlic Cream Sauce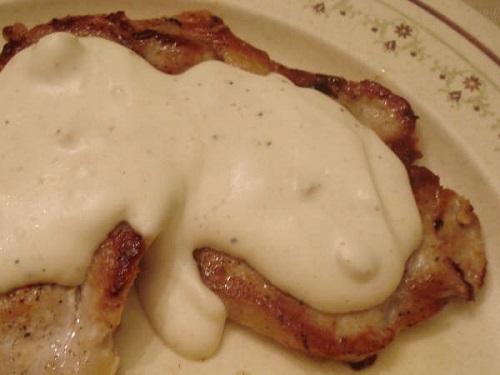 Ingredients
1 pound boneless pork loin chops

2 tablespoons butter

2 cloves roasted garlic, finely chopped

4 ounces (half a brick) cream cheese

1/3 cup milk
Directions
1. Season pork liberally with salt and pepper. In a large skillet over medium-high heat, cook chops in olive oil until juices run clear.
2. Meanwhile, melt butter in a small saucepan over medium heat. Add chopped garlic cloves and saute for about 2 minutes.
3. Add cream cheese and milk to the garlic and stir until cream cheese is melted and sauce is hot, 1-2 minutes. Add salt and pepper to taste (I went heavy on the pepper).
4. Serve sauce over pork chops.