Butternut Squash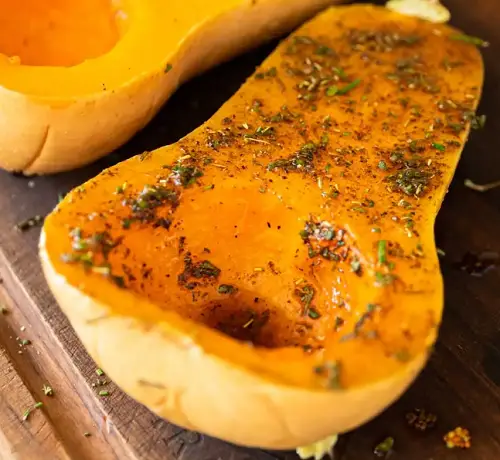 Ingredients
2 tablespoons sage leaves, save stems
2 tablespoons rosemary needles, save stems
1 tablespoon fennel seeds
1 tablespoon coriander seeds
1 tablespoon Aleppo chili
5 tablespoons extra virgin olive oil
Black pepper fresh ground
Directions
1

Preheat the oven to 350°F (180°C).
2

Scrub the squash with warm water to remove any wax or dirt on the outside. Cut the squash in half lengthwise and scoop out the seeds. Season the cut sides of the squash with salt and pepper.
3

Pick the leaves from the sage & rosemary and reserve.
4

In a roasting pan just large enough to accommodate the squash halves, combine the sage stems, 1 cup water, 2 tablespoons of extra virgin olive oil, and the bay leaves, spreading the herb stems evenly over the bottom of the pan.
5

Using a sharp knife score the skin on the squash like grill marks then repeat on the flesh side. Season the squash with salt and pepper on both sides, then place the squash halves, skin side up, cut side down in the pan. Place in oven.
6

While the squash is roasting, in a mortar & pestle crush the fennel & coriander seeds, place in a bowl then add Aleppo chili and the chopped sage and rosemary blend with 2 Tbsp extra virgin olive oil.
7

Roast the squash until tender when pierced with a knife, about 40 minutes. Let the squash cool then rub both sides of the squash with the herb & spice mixture.
8

In a sauté pan over high heat, melt the remaining 2 tablespoons extra virgin olive oil. Add the squash pieces, cut side down, and sear until nicely browned, basting the whole time with the olive oil until golden brown.
9

Transfer the squash pieces to a warmed platter. Serve right away with salsa Verde or salsa picante.