Rosemary-Parmesan Crackers
Rosemary-Parmesan Crackers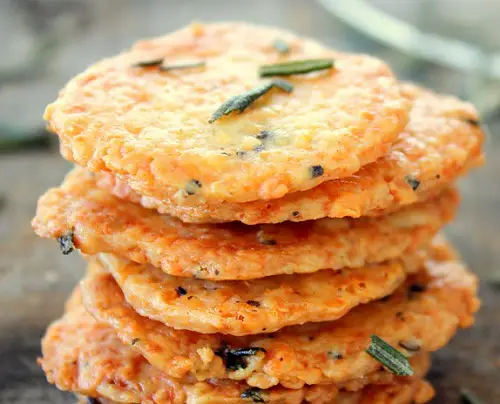 The crisp puffiness of these delicate crackers tempts people to pick them up, and they give off a wonderful aroma of garlic and rosemary.

Ingredients
Yield: 40-50
About 3 tablespoons extra virgin olive oil

½ recipe Basic Pizza Dough, cut into 4 pieces, rolled into balls, and allowed to rest at room temperature for 30 minutes

Flour for rolling out the dough

½ cup finely chopped fresh rosemary

10 to 12 garlic cloves, finely chopped

1 cup freshly grated Parmesan

Kosher salt and freshly ground black pepper
Instructions:
Preheat the oven to 400°F. Rub two sheet pans with a light coating of olive oil, 2 to 3 teaspoons apiece.

Roll out each ball of dough on a lightly floured surface into a round as thin as possible, about ⅛ inch thick. Transfer to the sheet pans. Rub each round with a teaspoon of the olive oil. Sprinkle each one with 2 tablespoons of the rosemary, a quarter of the garlic, and cup of the cheese, and season with salt and pepper.

Using a pizza cutter, slice each round of dough into 10 to 12 thin wedges. Bake until crisp and golden, about 15 minutes. Allow to cool before serving. They'll keep overnight in a tightly-sealed container. Don't refrigerate or they'll become soggy.