Cabbage rolls stuffed with smoked provola cheese
Cabbage rolls stuffed with smoked provola cheese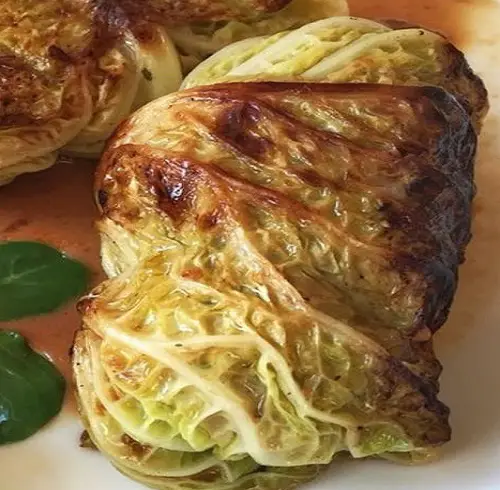 Ingredients
for 4 people:
8 cabbage leaves

4 eggs

mortadella, diced 160 gr

smoked provola cheese, diced 200g

3 tablespoons of grated pecorino cheese

2 ladles of hot vegetable stock

salt.
PREPARATION
Wash the cabbage and cook for 5 minutes in boiling salted water, then drain them and dry them gently.

Beat the eggs together with a pinch of salt, add the diced mortadella and provola cheese, grated cheese and mix well.

Place a bit 'of prepared mixture on each cabbage leaf and roll it up on itself to form a roulade. Continue until the end of all ingredients then place the rolls in a pan and sprinkle with two tablespoons of hot broth.

Cook with the lid and heat for about 15 minutes then, discover the pan and cook over high heat for 10 minutes.

Serve sprinkled with their cooking sauce.