Cacio e Pepe with Béchamel
Cacio e Pepe with Béchamel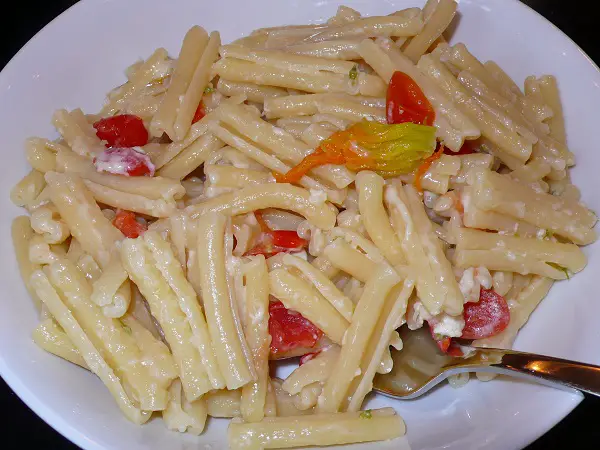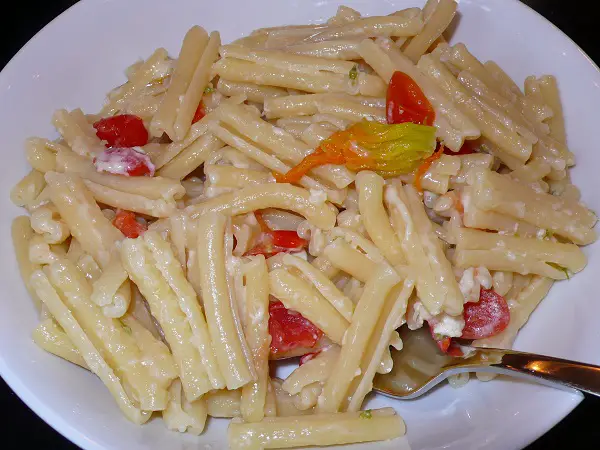 Ingredients
    1 tbsp. butter

    1½ tbsp. flour

    1 cup heated milk

    Salt & pepper to taste

    Pinch of nutmeg

    1/2 cup of cherry or grape tomatoes, quartered

    4 or 6 zucchini blossoms, torn into strips if large, left whole if small

    1/2 lb of pasta (fresh pasta like tagliolini would be ideal, but we used casareccie and were quite happy)

    1 cup grated pecorino romano, plus additional for serving

    2 teaspoons freshly ground black pepper
Directions
Fill a large pot with water for the pasta. Bring to a boil over high heat.

Melt butter in a saucepan over low heat. Add flour and stir. Heat milk in a separate saucepan over low to medium heat. While constantly whisking, gradually add hot milk to the roux. Simmer mixture while continuing to whisk. Sauce will thicken in a few minutes, add more milk if it becomes too thick you want it to stay really creamy.

Add tomatoes to the béchamel and cook over low heat, the tomatoes just need to be heated not cooked.

Once the water starts to boil for the pasta add a small handful of salt to the water and bring to a rolling boil. Add the pasta and cook until al dente.

After you have added the pasta to the water, add the zucchini flowers and ¼ of the pecorino romano to the béchamel, stir to blend the cheese.

Fill a large glass or ceramic bowl with some hot water to warm bowl. Just before pasta is finished cooking, drain bowl but do not dry.

Reserve 1/2 cup pasta cooking water, then drain pasta quickly in a colander (do not shake off excess water) and add to warm pasta bowl. Toss the pasta with the bechamel and sprinkle 3/4 cup cheese over the pasta and toss quickly. If pasta seems dry, toss with some cooking water. Serve immediately with additional cheese on the side.