Mushroom, Arugula, & Ricotta Ravioli with Garlic Basil Olive Oil
Mushroom, Arugula, & Ricotta Ravioli with Garlic Basil Olive Oil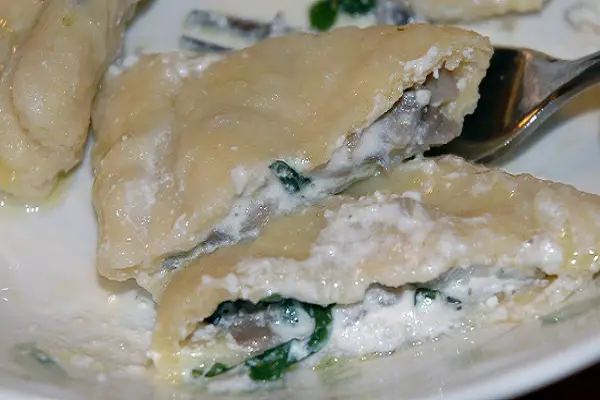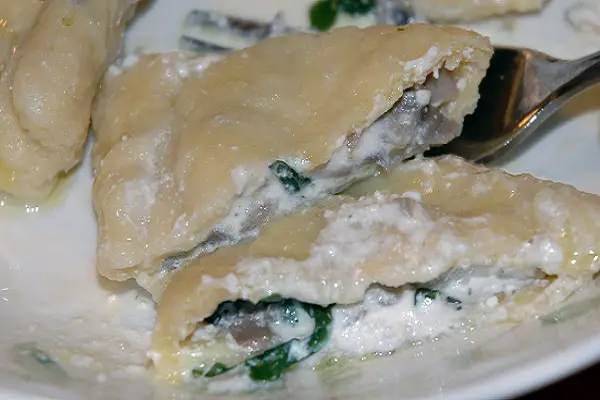 Ingredients
For the Dough:
    3 Eggs

    1 1/2 c Flour

    1/4 tsp Salt

    Water
Directions
In a large bowl, whisk together the eggs.

Then, stir in the flour & salt.  Add water as needed, until a soft dough is formed.  *Be careful not to add too much water here.

Knead the dough several times, then separate it into two large pieces.

On a lightly floured surface, roll out half of the dough into a very thin rectangle.

 Spoon your filling by the teaspoonful at 1 1/2 inch intervals on top of the piece of rolled out dough.  Moisten your fingers with a little bit of water & wet the dough slightly around the circle of filling, to help the dough stick together when you top it.

 Take the second piece of dough, roll it out into another very thin rectangle &carefully drape it over the top of the filling.

Slice the dough into individual raviolis, securing the edges with a gentle press.

At this step, the ravioli can be frozen or cooked immediately.

To cook, bring a pot of water to a boil.  Gently slide the ravioli one by one into the boiling water and cook for 6-8 minutes.
Ingredients
For the Filling:
    1 TBSp Olive Oil

    2 Garlic Cloves, crushed

    1 package (8 ounces) Mushrooms, finely chopped

    1 package (6 ounces) Baby Arugula, finely chopped

    1 c Ricotta Cheese

    1/4 c Parmesan, grated

    1/2 tsp Salt

    Ground Pepper, to taste
Directions
In a large skillet, heat the olive oil &cook the garlic for about one minute.

Add the mushrooms & arugula, & cook until softened, about 3-5 minutes.

Remove from heat & pour into a medium bowl.Stir in the ricotta, parmesan, salt, & pepper.

Using the same sauté pan:
Ingredients
For the Basil Olive Oil:
    Few pinches dried basil

    3-5 Garlic Cloves, crushed (I used 3)

    1 tsp Crushed Red Pepper Flakes

    1/2 c Olive Oil
Directions
On low, heat the oil.

Add in the basil, garlic, & pepper & on low heat, allow the flavors to meld for a few minutes.

Drizzle over freshly cooked ravioli in place of sauce.