Zucchini, Bell Pepper & Angel Hair Pasta
Zucchini, Bell Pepper & Angel Hair Pasta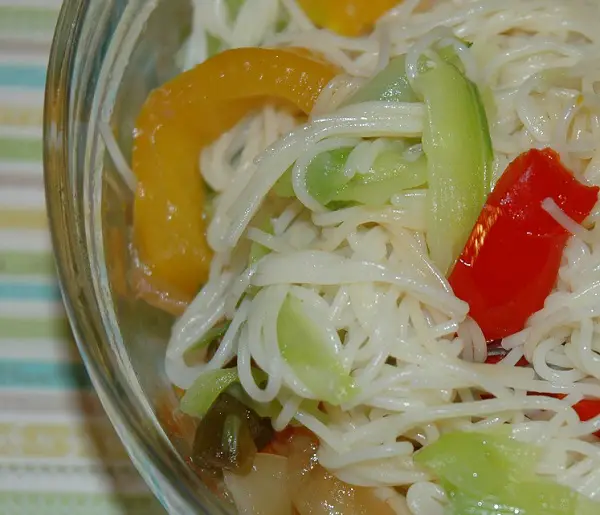 Ingredients
    2 Tbsp Canola Oil

    1 small Onion, sliced

    1 red Bell Pepper, sliced

    1 Yellow Bell Pepper, sliced

    1 Zucchini, peeled into "ribbons"*

    1/2 box Angel Hair Pasta, pieces broken in halves

    Freshly grated Parmesan Cheese, Optional
Directions
In a pasta pot, set water to boil.

In a Medium saute pan, heat the canola oil on Medium-High. Add in the onion slices, S & P & pepper slices. Saute until the veg is soft, but not too mushy.

When the water boils for the pasta, add in the pasta & the zucchini strips.

 Cook as per instructions on the pasta box.

Zuccini ribbons take the same amount of time. Drain, reserving a 1/2 cup of the pasta water.

 Add in the sauteed onion, bell pepper slices, along with any scrapings/oil in the pan. If needed, for extra moisture, add in the reserved pasta water here.

Toss everything together.

Top with the grated parmesan & enojoy!
*To make the Zucchini Ribbons- Take a Vegetable peeler & peel off the zucchini skin. Then continuously slice "ribbons" of zucchini into a pile with the peeler.