Chicken Bruschetta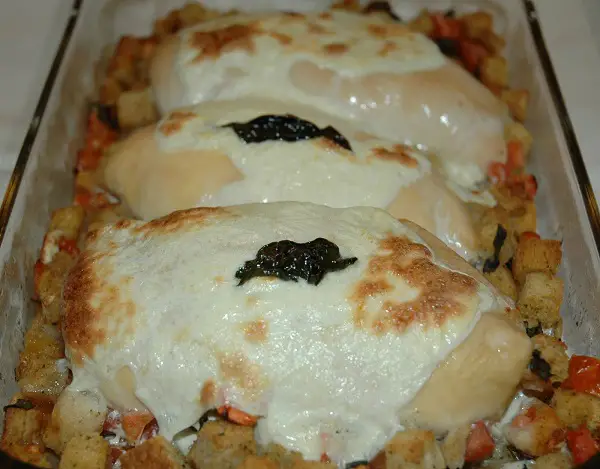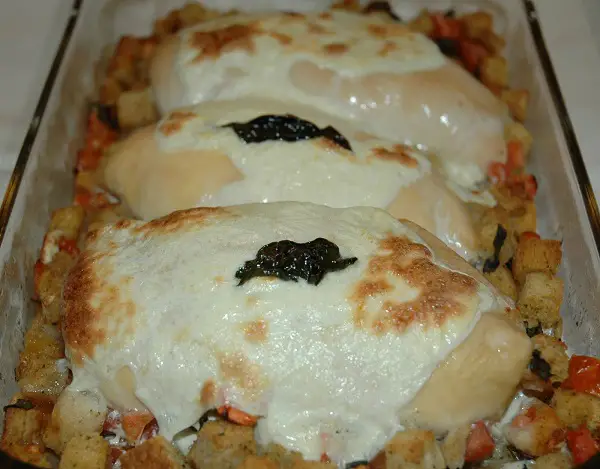 Ingredients
    1 medium to large Tomato, diced small

    2 cups of Croutons (made fresh from crusty, stale bread or you can use store bought or a stuffing bag)

    1/4 cup Parmesan Cheese, grated or shredded

    2 Cloves of Garlic, Minced

    1 TBSp fresh Parsley, chopped

    Bunch of fresh Basil… 2 TBSp chiffonade & some whole leaves to top

    1 cup Water

    1-2 lbs. boneless, skinless Chicken Breasts

    Slices of fresh Mozzarella
Directions
Preheat oven to 400 degrees

"Grease" an oven baking dish with cooking spray.

In a medium bowl, combine the diced tomato, croutons, parmesan, garlic, parsley, 2 Tbsp. of basil, & water.

Spoon into the baking dish.

Place the chicken on top of the crouton mixture.

Top with thin slices of fresh mozzarella & full basil leaves.

Bake for 55-60 minutes, until the chicken is well done.