Pumpkin Seed Cranberry Biscotti Recipe
Pumpkin Seed Cranberry Biscotti Recipe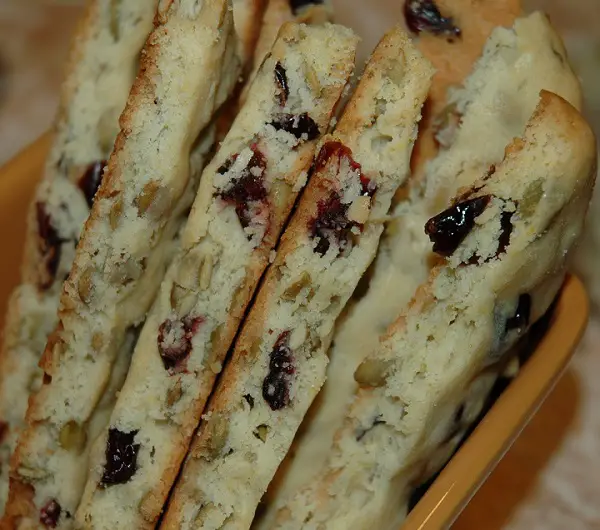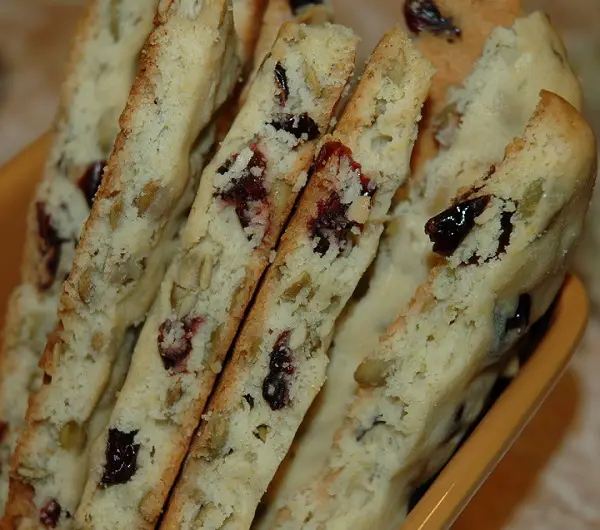 Ingredients
Makes 2-1/2 dozen.
    3/4 cup

    Sugar

    2 eggs

    1/4 cup canola oil

    1-1/2 teaspoons Spice Islands® pure vanilla extract

    1/2 teaspoon almond extract

    1-3/4 cups all-purpose flour

    1 teaspoon baking powder

    1/2 teaspoon salt

    1 cup salted pumpkin seeds

    1/2 cup dried cranberries
Directions
In a small bowl, beat the sugar, eggs, oil and extracts. Combine the flour, baking powder and salt; gradually add to sugar mixture and mix well. Stir in pumpkin seeds and cranberries (dough will be sticky).

Divide dough in half; place on a baking sheet coated with cooking spray (I lined with parchment paper) . With lightly floured hands, shape each portion into a 12-in. x 2-in. rectangle. Bake at 350° for 25-30 minutes or until golden brown.

Carefully remove to wire racks; cool for 10 minutes. Transfer to a cutting board; cut diagonally with a serrated knife into 3/4-in. slices. Place cut side down on ungreased lined with parchment paper baking sheets.

Bake for 5 minutes or until firm. Turn and bake 5-10 minutes longer or until lightly browned.

Remove to wire racks to cool.

Store in an airtight container.