Calabrian Crustoli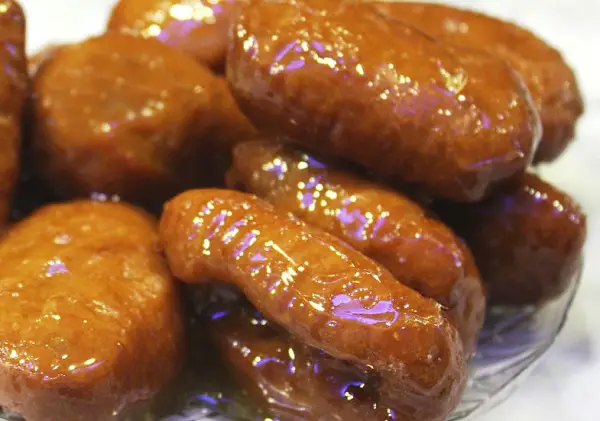 Ingredients
 for 4 people:
1 kg of durum wheat

1 glass of red wine

1 glass of water

2 glass of vegetable oil

5 cloves, pounded

1/2 teaspoon of ground cinnamon

1 packet of baking powder

grated rind of half a lemon

olive oil (for frying)

honey (for the cover)

salt.
PREPARATION
In a bowl mix the flour with the cinnamon, grated lemon peel, baking powder and finely ground cloves; put in a pot to heat the wine together with the oil and the water until you get a thick cream (be careful not to boil!)

Add the cream to the flour and mix well until the mixture is soft and smooth.

Take some pieces of pasta and from these create some sausages then cut them into small pieces in order to create the dumplings. Arrange the dumplings on a dish sprinkled with a little flour.

In a pan put plenty of oil to warm up then, as it becomes very hot, fry the crustoli until will be a beautiful coppery color.

Drain them and put them to dry on a paper towel. Let cool completely and in the meantime, prepare the honey.

Heat the honey in a saucepan with a little cup of water and, when it is well liquid, pour in the crustoli and stir quickly.

Place in a serving dish and serve.
Variants
You can substitute honey, with the same amount of cooked wine.