Calamari "Noodles" with Olives and Arugula
Calamari "Noodles" with Olives and Arugula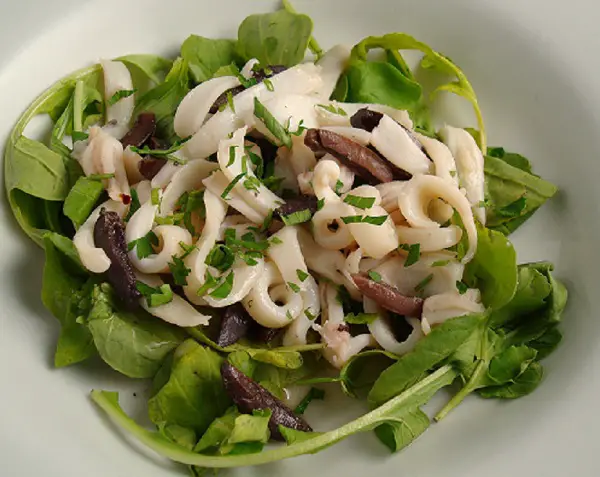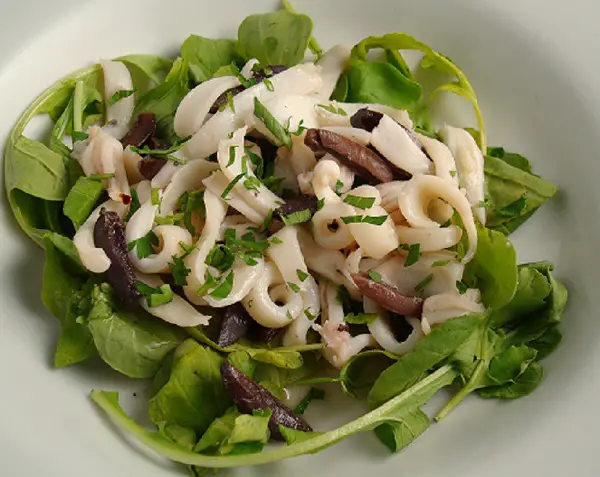 Ingredients
Makes 2-3 servings
1/2 pound clean calamari, tubes and tentacles (or only tubes, if you prefer)

Extra-virgin olive oil

2 large cloves garlic, smashed, plus 1 for rubbing bread

Pinch crushed red pepper flakes

Salt

1/4 cup dry white wine

2 tablespoons kalamata or gaeta olives, slivered

2 slices crusty bread

1 large handful washed baby arugula

1 tablespoon chopped parsley, for garnish
Directions
Cut each calamari tube in strips lengthwise that are about 1/4-inch wide. If using the tentacles, cut in segments.

Coat a large saute pan generously with olive oil.

Add the smashed garlic cloves and crushed red pepper and bring to a high heat. When the garlic is golden brown and very aromatic remove the garlic and discard.

Carefully add the calamari and quickly toss or stir in the hot oil.

Season with salt and saute for 1 to 2 minutes or until the calamari turn from translucent to opaque.

Add the wine and the olives and cook until the wine has reduced by about half.

Taste to see if the seasoning is correct.

While the calamari is cooking, toast or grill the bread. Rub the bread with the remaining garlic clove and drizzle generously with olive oil.

Divide the arugula between 4 serving bowls. Spoon the calamari and juices over the greens.

 Cut each piece of bread in half on the bias and arrange on the calamari.

Garnish with parsley and serve.