Grilled Sausage with Broccoli Rabe and Cannellini Beans
Grilled Sausage with Broccoli Rabe and Cannellini Beans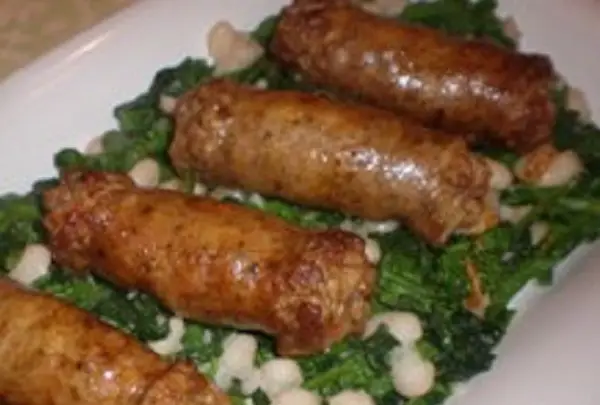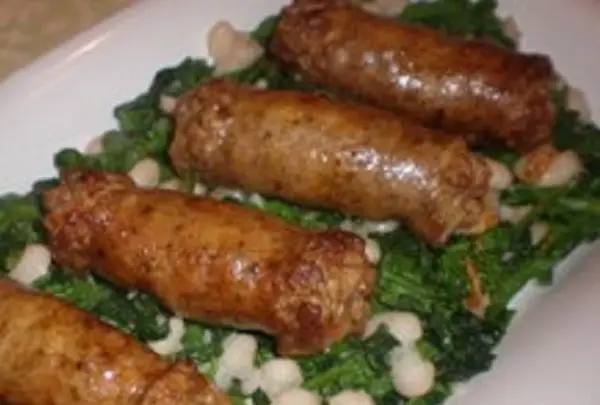 Ingredients:
(Serves 4)
1 pound Italian sausage links, sweet or hot

2 bunches broccoli rabe

3 tablespoons olive oil

6 large cloves garlic, sliced

1/2 teaspoon crushed red pepper flakes

Salt and pepper

1 (15 ounce) can cannellini beans, drained
Directions:
Preheat grill to high. Grill the sausages until golden brown on all sides and cooked through, about 10 to 12 minutes.  Set aside.

Cut off and discard the tough ends of the broccoli rabe; cut the rest of into 2-inch pieces. Heat the olive oil in a large skillet over medium-high heat.  Add the garlic and red pepper flakes. Saute, stirring occasionally, until the garlic begins to brown.   Add the broccoli rabe to skillet; toss gently with the garlic.

Season with salt and pepper. Reduce the heat to medium-low.  Cover and cook for 5 minutes, turning occasionally with tongs  Add the cannellini beans and cook for another 3-5 minutes or until the broccoli rabe is tender.

Transfer to a platter and top with the grilled sausages.