Cannoli Cake Recipe from Sargento
Cannoli Cake Recipe from Sargento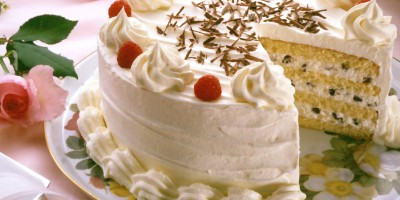 Everybody Loves a good cannoli, but depending on where you live, you might not be able to find a good cannoli.  Well, now using products from Sargento, you can make a cannoli cake that your friends and family will love.  Give this recipe a try and you will be baking like an Italian cook.
If you decide to try this recipe, please come back and comment to let us know how it worked out for you.
Cannoli Cake Recipe
Ingredients
4 eggs
2/3 cup sugar
1 cup all-purpose flour
1/2 cup (1 stick) butter or margarine, melted and cooled
1/4 cup chopped semisweet chocolate
1 recipe Ricotta Filling
1 recipe Whipped Cream Frosting
Fresh berries or candied cherries, for garnish
Ricotta Filling:
2 cups (15 oz.) Sargento® Part-Skim Ricotta Cheese
3 Tbsp. sugar
1-1/2 tsp. vanilla
1 cup whipping cream, whipped
1 cup semisweet mini chocolate chips
Whipped Cream Frosting:
2 cups whipping cream
2 Tbsp. confectioners sugar
1/2 tsp. vanilla
Directions
Beat eggs and sugar on medium speed in bowl with an electric mixer 5 minutes or until thick. Gently fold in flour and butter; pour into greased and floured 8-inch round cake pan. Bake in preheated 350°F oven 40 minutes or until cake feels firm when touched in center. Cool in pan 5 minutes. Remove from pan and cool completely on wire rack.
To make Ricotta Filling: Beat Ricotta cheese, sugar and vanilla on medium speed in bowl with electric mixer 3 minutes. Fold in whipped cream and chocolate chips.
To make Whipped Cream Frosting: Beat cream on high speed in bowl with electric mixer until soft peaks form. Beat in sugar and vanilla.
Cut cake in half horizontally using sharp serrated knife. Cut each layer in half again horizontally. Place 1 layer on serving platter; spread with one-third Ricotta filling. Repeat procedure, ending with cake layer. No sooner than 6 hours before serving, frost sides and top of cake with all but 1 cup frosting. Decorate with remaining frosting, chopped chocolate and fruit. Refrigerate until serving time.
CLICK PICTURE FOR MORE RECIPES FROM SARGENTO